With the Passover seder being central to the celebration of the holiday of spring, it's no wonder items of Judaica play an integral role in the festivities. Between the seder plate featuring foods symbolizing Passover, to matzah covers to cups of Elijah or Miriam, to name a few, the eight-day holiday is a virtual Judaica-palooza.
Columbus Jewish News invited a few readers to share stories of their special Passover Judaica.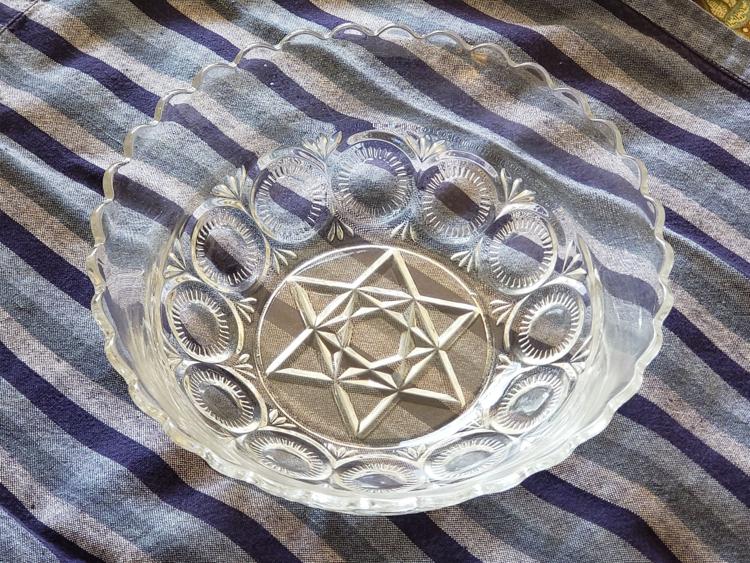 Amy Blank, Bexley
Amy Blank's journey to Judaism included deception about her true identity and the eventual revelation of a family secret. 
During her childhood in Indiana in the 1970s and 1980s, Jews did not feel particularly safe practicing their religion publicly. Rampant anti-Semitism led her parents to decide not to tell her that her father is Jewish. 
"We were raised in a home without religion because my parents were afraid of threats and pressures Jewish people lived under at the time in Indiana," she said.
However, her grandmother would show her various items of cookery or home decor that subtly pointed to the family's Jewish roots. A small, muslin bag, featuring hand-stitching spelling "Afikomen" was given to Blank by her grandmother. Another item she cherishes is a crystal glass bowl with two Jewish stars etched in the bottom, whose sentimental value far exceeds its monetary worth. Another adorning is twelve small glass circles covering the lower outside of the bowl. Blank is convinced those 12 circles represent the 12 Tribes. 
"When I was 21, my mom told me my dad was Jewish, and my life made more sense," Blank said. "The bowl is a link to my Jewish ancestry, which means a lot to me."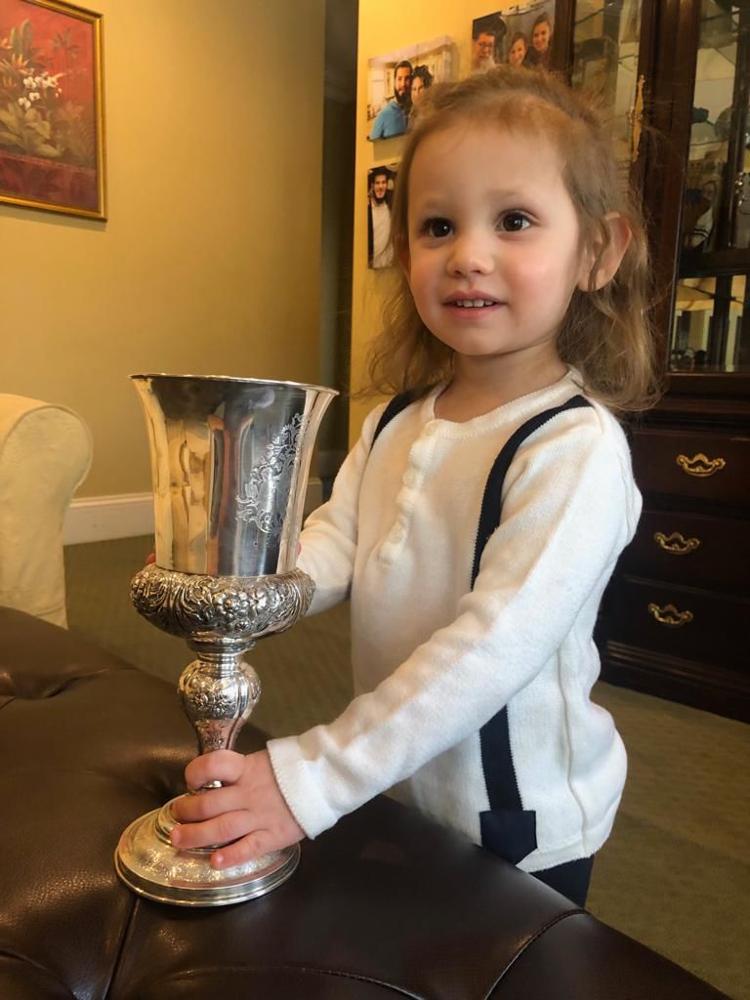 Rabbi Areyah Kaltmann, New Albany
The history of the tall silver kiddush cup that proudly graces Rabbi Areyah Kaltmann's seder table is equally as impressive.
"The cup used to be on my paternal grandfather's seder table in Bratislava," the capital of Slovakia, he said. "For me, it's incredibly meaningful that something my grandfather used in his seder 100 years ago is now being used at my seder every single year."
Kaltmann's grandfather perished at Bergen-Belsen concentration camp. Still, he said, "I feel he is at my seder when I stare at the cup. Just like Eliyahu comes to a seder, it's as if my grandfather is there, too."
The Passover seder is extremely special to Kaltmann, not only because of the ornate cup of Elijah adorning the table. Throughout his life, his father, who died three years ago, would regale him with tales of how his father would wear a kittel, or white robe, and stay up late the night of the seder to tell stories to his family and their Passover guests. 
"Passover is about rebirth and dedication," Kaltmann said. "The enemies are kaput and freedom can begin. That is the story of my dad, too." That's because on April 11, 1945, his father's 17th birthday, he was liberated from Halberstadt, a sub-camp of Buchenwald. Conversely, when the Bible's Joseph, Kaltmann's father's namesake, was 17, he was thrown into a pit. 
"But my dad was freed," Kaltmann said.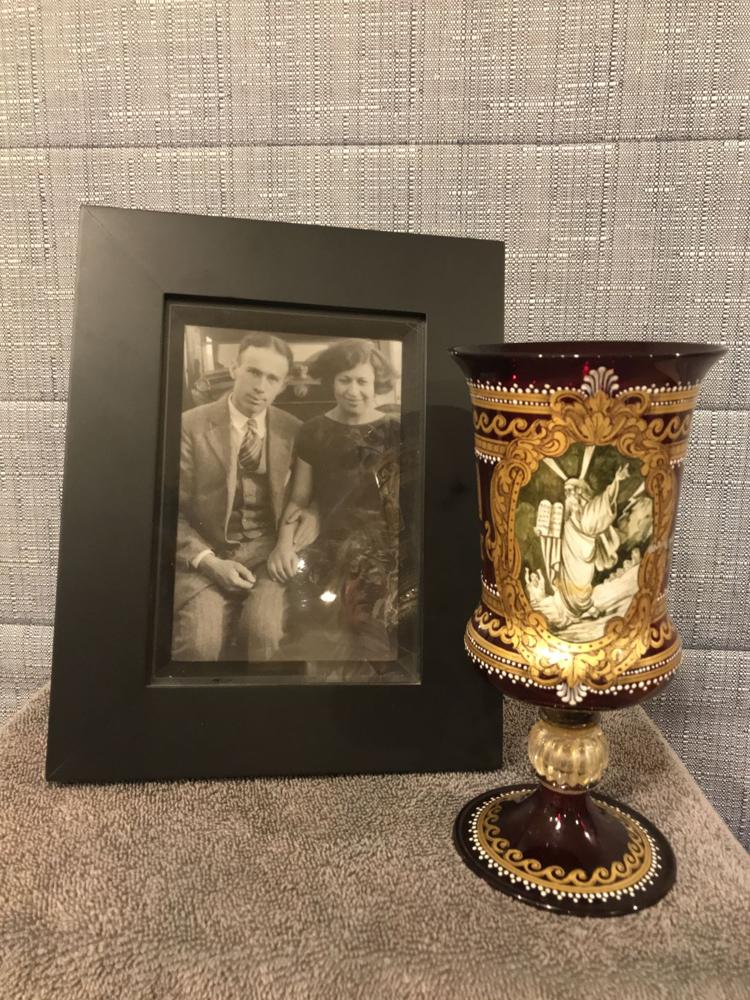 Susie and Brad Blair, Bexley
Susie Blair recalls the Passover seders of her childhood, held at the home of her grandparents, Louis and Lucille Schlezinger. Every year she sat at the seder table, she saw a glass cup at the center of the table decor. 
"I thought it was the most beautiful glass I had ever seen," she said. 
Her grandfather died first, and when her grandmother died, the cup of Elijah became Susie's. 
"It's so special because it was given to me, but belonged to my grandparents. I always host my family seder and that is the one thing from our family's seder that has been passed down," she said. 
She intends on giving it to her adult children when the time is right. 
"We only use it on Passover and it's only displayed the rest of the year," Blair said.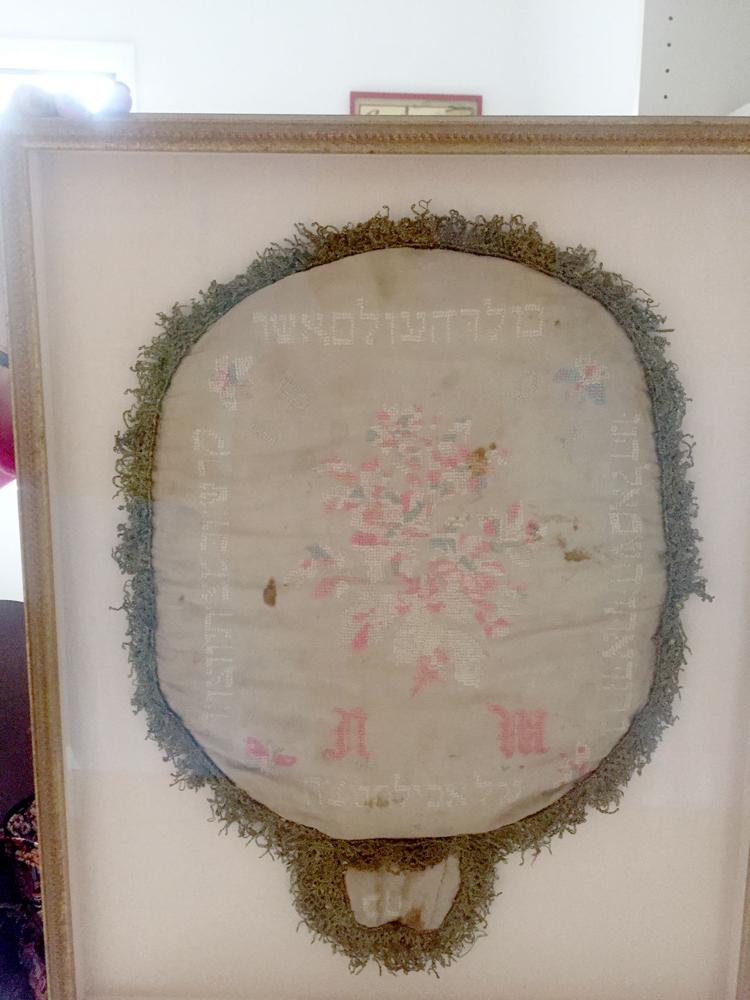 Judith Korn Oppenheimer and Margery Korn Hollander, Bexley
The precious item of Passover Judaica in the Korn family is in the hands of Margery Korn Hollander, but her sister, Judith Korn Oppenheimer, and brother, David Korn, all feel like caretakers. The matzah cover is so old and delicate, the family had it professionally framed 20 years ago. 
The Korns' grandmother made the matzah cover by hand as a gift to her soon-to-be husband, their grandfather, said Korn Oppenheimer. 
"When we held seders at our grandmother's house on Bulen (Ave.), our tradition was at a certain point in the seder to hold up the matzah platter and cover it and we'd say, 'Behold, we have stood up.' I recall how we acted like the matzah and the cover were sacred," she said, smiling.
When the family moved the seder to Hollander's home, the beloved matzah cover came with the deal. 
"The multigenerational history of the matzah cover makes it precious and beloved all the more," Hollander said.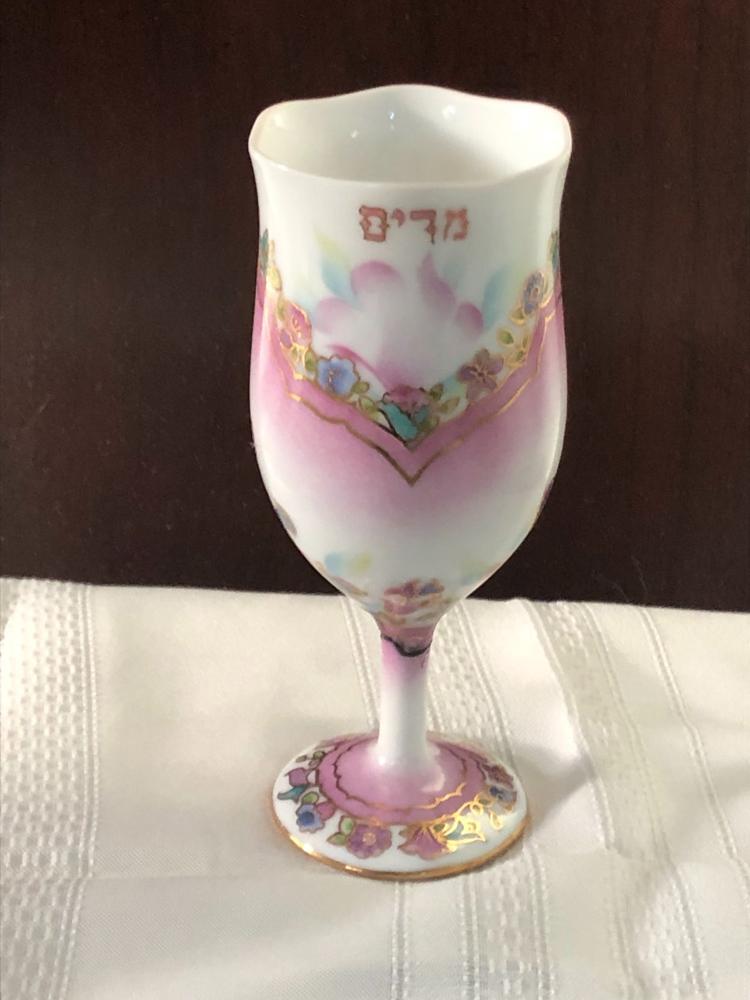 Helen Miller, Bexley
A delicate, simple painted wine cup created out of a Lenox-like material is at the heart of Helen Miller's Passover table. 
"A friend of my mother's took china and designed a floral décor, then presented it to my mother," she said. "It has her name of 'Miriam' written on it in Hebrew. She used it for her Shabbat kiddush."
When her mother died eight years ago, Miller decided to honor her memory by incorporating the Miriam's cup in an inventive way. It is especially meaningful because the cup was already personalized with the name "Miriam" on it.
"Everyone passes the cup around and each attendee mentions a woman who has been instrumental to their life that year," Miller said. "After that, each person adds water to the cup to symbolize how much fuller their life is with that woman in it."
Tami Kamin Meyer writes for the Columbus Jewish News from Bexley.