The number of COVID-19 cases reported June 25 in Ohio was an increase of 892 cases over the previous day – the fourth highest day of cases noted by report date.
The three highest dates were April 18-20, when significant testing was conducted in state prisons, Ohio Gov. Mike DeWine said during a June 25 press briefing.
"This is in essence, the highest number – in a sense – that we have had," DeWine said.
There has been a shift in younger people driving an increase in cases; almost 60% of cases are in individuals in the 20- to 49-year-old range.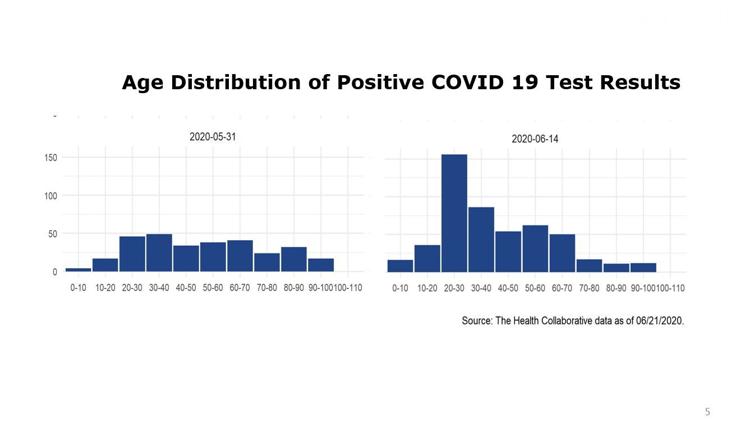 DeWine said the increase in cases is not completely due to increased testing.
"No analyst that I have talked to believes that the total increase is due to that," DeWine said.
UC Health President and CEO Dr. Richard P. Lofgren joined DeWine on Skype to discuss an increase of COVID-19 cases in Hamilton County, home of Cincinnati.
"I've asked Dr. Lofgren to spend some time talking today about what he is seeing and what they are seeing in Hamilton County," DeWine said. "Quite frankly, what he's going to describe to you is some trends that are moving in the wrong direction, certainly not what we want to see."
Lofgren thanked DeWine for his leadership and "remarkable, steady hand" throughout the pandemic, adding, "It's really been phenomenal."
"After the initial introduction of this virus in our community, Hamilton County and the surrounding areas really have done an incredible job of slowing down and containing the spread of the virus until, unfortunately, the last 10 plus days where we've definitely seen an uptick or a spike in the number of new cases," Lofgren said.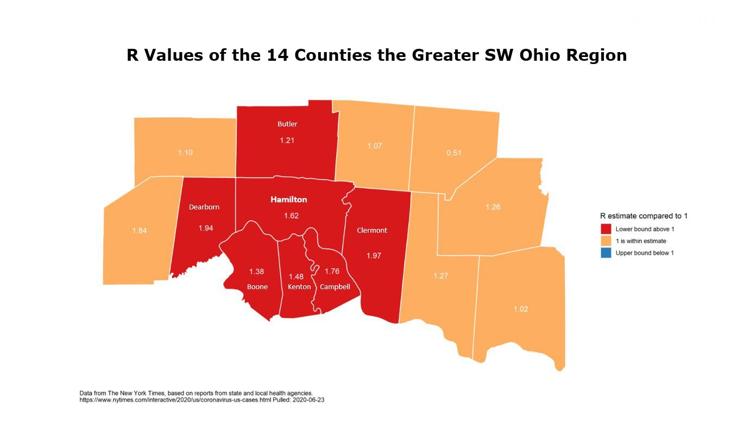 Lofgren also described a modest but definite increase in patients hospitalized due to COVID-19.
Ohio has 47,651 total cases of COVID-19 and 2,772 total deaths, the Ohio Department of Health reported June 25.
The total number of individuals who have been tested in Ohio is 696,200.
The ODH reports 7,502 individuals have been hospitalized, and 1,897 have been admitted to the ICU due to the coronavirus.
The individuals who have tested positive range in age from less than 1 year old to 109 years old, with a median age of 47.
Franklin County accounts for 8,310 of the cases, 1,018 hospitalizations and 378 deaths.
If you have questions regarding COVID-19, call 833-4ASKODH (833-427-5634) or visit coronavirus.ohio.gov.