Few people can say they had an integral role in bringing a new synagogue to life. However, when that opportunity presented itself to Liz Kalef, she said she saw no other option than to be involved at the ground level with the nascent Congregation Torat Emet.
"I started doing work here when the synagogue started, just like special projects and our newsletter – whatever Rabbi (Howard) Zack needed – and it just kind for grew as the synagogue grew and the needs of the synagogue grew," Kalef told the Columbus Jewish News.
Kalef, who has been with Torat Emet in Bexley for 18 years and its full-time executive director since 2007, will step down at the end of September. She plans to split her time between Orlando, Fla., and Bexley, where she's resided almost her entire life. Torat Emet does not plan to fill the position immediately.
"Liz has been like my right arm," said Zack, the spiritual leader of the congregation. "I refer to her and the rest of my staff as the dream team. (In Liz) you couldn't have asked for a better experienced and skilled professional to really help build an organization and to run the synagogue."
Kalef holds a master's degree in social work from Yeshiva University's Wurzweiler School of Social Work in New York City. She was previously executive director at Congregation Agudas Achim, also in Bexley, a position she held for four years but left after having a baby and to help her father as he recovered from bypass surgery. She began helping out at the new Torat Emet, which held its first Shabbat services the first Sabbath after 9/11. She already knew Zack because he interviewed for the rabbi position at Agudas Achim while she worked there.
"It was super exciting, mostly because it was very small when we started. There were maybe 65 families," she said. "All the families were so motivated and so connected on this same mission."
Three weeks after Torat Emet opened its new building on Main Street in 2009, Kalef's oldest son, Max, was the shul's first bar mitzvah.
Among her accomplishments at the shul, the new building and the many programs the congregation offers rank highly, Kalef said. She also spearheaded the synagogue's annual major fundraising dinner, the Main Event. While many synagogues base such events around speakers and an honoree, Kalef and Zack decided at Torat Emet they wanted less formal talking and more time enjoying entertainment, kosher food and time together as a congregation.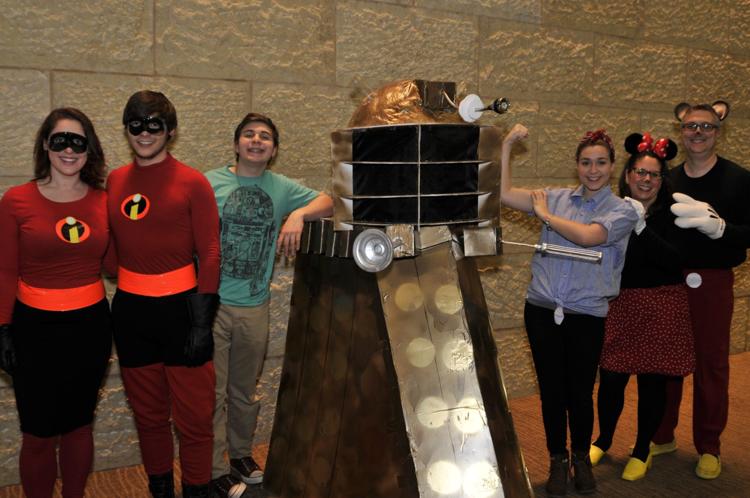 "That kind of became our motif – coming to Torat Emet should for both spiritual and social fulfillment," Zack said.
This year, the event featured former Broadway performer David "Dudu" Fisher.
The shul's president Dr. Michael Blumenfeld said Kalef and her family have been integral to the synagogue since its inception.
"I think she really understands and knows how the institution works and has been very able to facilitate us in accomplishing our tasks and interacting with both the board, the employees and the congregation," said Blumenfeld, a Bexley resident. "She's been a good conduit toward putting that together and keeping us alive and functioning well."
Kalef also noted she often operates in the background. Although she's held many important roles, she often doesn't take credit, but counsels other leaders. Zack said Kalef's skills as a social worker allowed her to play an integral role in counseling congregants, more so than may be typical for a synagogue executive director.
Moreover, for Kalef, adapting to members' diverse needs as membership grows has been among the challenges of her tenure. Being on top of how to involve lay leaders and figuring out how to serve everyone is a constant challenge.
"I think 18 years, depending on how you look at it, can be a long time and to go from 65 families to over 200 families … there's a lot of growing pains in that," she said. "The nature of the community and individuals and volunteerism (and) lay leadership has changed over the years."
Due in part to the partnerships between lay leaders and staff, cultivated in large part by Kalef, her responsibilities will be spread out among staff, the shul's board and volunteers once she leaves, Zack said.
"We have some great staff here, so what we are doing is we are going to see how it goes dividing up the tasks between the staff that we have in place," he said. "(They) are all taking on additional responsibility and a number of lay leaders from the board and elsewhere are stepping in to take over certain tasks."
Kalef's youngest son, Neil, will attend college at University of Central Florida in Orlando this fall, which helped spur Kalef's transition, and her family has a home in Orlando. Her husband, Jeremy, will continue to work in Central Ohio, while her other two children, Max and Rose, reside in Chicago.
"I'm excited to be able to spend more time with them as adults," Kalef said. "I really like this part of our relationship."