When former Bexley resident Rabbi Yakov Goldberg attended Beth Jacob Congregation in Columbus a few years ago, he would sometimes arrive for a minyan and find the rabbi and others scrambling to ensure 10 men would be available to participate.
He would start making calls to potential participants and try to keep track of those saying yes, no and maybe.
"Sometimes you would have three people calling different people and sometimes you would have to wait a half hour to get a minyan together," he said, adding that those who arrived early would simply have to wait. 
He knows such an inconvenience occurs at shuls around the world and thought there must be a better way to organize minyanim with the help of technology. Thus, along with another Beth Jacob member and web developer Aaron Haas, he created the Minyan Maker web app.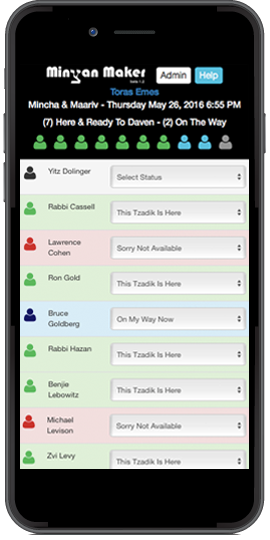 The app, which can be used on any device with a web browser, allows a rabbi or administrator to send a text message to a congregation and congregants can indicate whether they are attending (the text includes a link to a Minyan Maker roster for the shul). Then, users can see in real time how many people have indicated they are present, on their way or not available. Moreover, it makes it easy for rabbis to reach out to an entire congregation, or form subgroups to contact different people at different times. 
"That's half of it – just making it really easy for a rabbi to reach out to an entire congregation in a matter of a couple clicks, seconds really," Haas said.
It also solves the problem where a congregant rushes to synagogue to help form a minyan – even if they are in the middle of something important – and finds 30 people have already shown up.
Rabbi Avi Goldstein of Beth Jacob said the app is useful for finding participants in a structured way.
"It's a great example of how bringing modern technology to traditional Judaism can improve the lives of everyone," Goldstein said. 
The app could also be used to form a minyan at a mourner's house during a time of shiva and for other purposes.
Haas and Goldberg, who also partnered with Naeem Shareef, a computer science professor at The Ohio State University to create the app, initially launched it in 2017. To their surprise, its free test version almost immediately had users. 
"I've never launched a website and within a day had people sign up for something," said Haas, who moved to Sarasota, Fla., more than two years ago. 
They later started getting paid users and an updated version was released at the beginning of 2019. 
The app starts at $39.99 a month for a shul to purchase. That lowest price level has 50 roster spots for minyan participants and allows for 1,000 text messages to go out. 
Goldberg and Haas said the cost is due to fees for texting and calling, as well as technical support. 
About 25 synagogues across the United States are using the app and Haas estimates between 25 and 200 individuals interact with the app at each shul. Although the app is not yet available outside the U.S. due to different international messaging systems, the aim is to make it available elsewhere eventually. They said they've seen interest in Canada, Europe and Israel. 
Goldberg, who lives in New York and Israel and continues to run his Breslov Judaic Gift Shop, formerly of Columbus, as a wholesale store, said responses have been mostly good. 
"The main thing is, this is a tool that promotes a positive thing for our religion," he said. "We wanted to be able to do something good for the synagogues and for the communities around the country and even around the world. And this seems to satisfy a need that no one has really been able to figure out how to do this so far."
Rabbi David Claman of Congregation Ahavas Sholom in Bexley said his shul typically has a steady regular minyan. However, in the summer when regular attendees may go on extended vacations, or in the winter when the sun sets between 4 and 5 p.m. and people are still at work, forming the minyan can become a little challenging. 
"You've got to be creative," he said. "You obviously rely on retirees and things like that. Sometimes people who live close will even leave work for an hour to attend and then they go back."
While Claman said he hasn't used the app – he typically calls, texts or uses WhatsApp  – a new way to ensure ongoing minyanim within communities is an important contribution. 
"As a rabbi, it is a tremendous mitzvah," he said. "It's not just a way to dispense your individual responsibility, but it's also a tremendous contribution to the community. Having ongoing minyanim at the local synagogues is great, it really generates community. People come together (and) not only do you daven together, but you schmooze and catch up and just having an ongoing minyan is very encouraging and important."