When University of Texas diving coach Matt Scoggin met Bexley High School student Samantha "Murphy" Bromberg in 2011, he had a hunch she was the real deal.
After years of practice and competitions with the diver, that first impression has proven correct.
By winning the 2019 USA Diving Winter National Championships in Minneapolis in December, as well as the 2019 NCAA Division I Women's Diving Championships, Bromberg secured a spot at the U.S. Olympic Trials from June 14 to 21 in Indianapolis.
"It's been fun to coach Murphy," said Scoggin, who has coached the Longhorns' men's and women's diving teams for 26 years. "She typically shows up when the moment is big and rises to the occasion."
The U.S. Olympic Trials determine which athletes will represent the United States in the Summer Olympics; there are only two spots for female platform divers on the team. At the same competition four years ago, Bromberg placed third.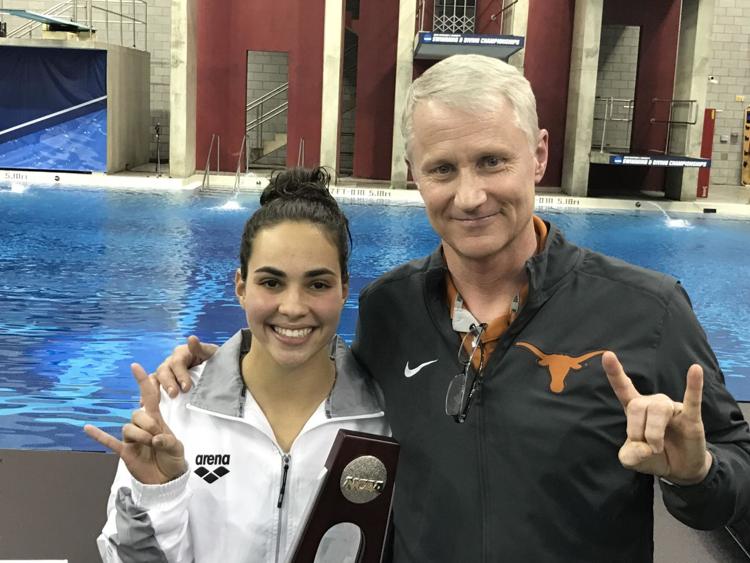 She is now preparing for the FINA Diving World Cup, an Olympic test event April 21 to 26 in the same Tokyo aquatic center where the 2020 Summer Olympics diving competition will be held. Although Bromberg's performance at the competition will not directly impact the trials in June, she still wants to perform well.
"It matters because you want to show the judges you're one of the top divers in the world," said Bromberg, whose nickname, Murphy, pays homage to her late great-grandfather.
Bromberg's foray into platform diving began as a vivacious child. Her mother, Karen Bromberg, sought a way for her to burn off excess energy, so she registered Bromberg for gymnastics. At first, that sport seemed like the answer, but Bromberg lost interest after a few years.
She "retired" from gymnastics in 2006 and needed something else to occupy her time. While pondering alternative activities, Karen Bromberg's friend whose daughter was a nationally ranked diver from Columbus suggested Bromberg join their diving club.
Bromberg immediately took to the sport, and she and her family invested hours of practice, travel and money as diving took their daughter all over the world to compete.
"I've followed her all over to watch her dive," her mother said.
Destinations have included Shanghai, Rio de Janeiro, Barcelona, Madrid, California and Canada.
While a student at Bexley High, Bromberg attended classes part time while practicing diving the rest of the day. She graduated in 2013, as well as from Columbus Hebrew High School, although she said she often had to leave class to attend practice.
The Bromberg family, which also consists of father Danny and Bromberg's two siblings, are former members of Congregation Tifereth Israel in Columbus, where Murphy became a bat mitzvah. While the family wasn't incredibly religious, Murphy said she has fond memories of spending Jewish holidays together. Karen Bromberg recalled the sweetness of watching Bromberg and her siblings "act out the Passover story as kids."
As the mother of a successful high school-, collegiate- and potentially Olympic-level diver, Karen Bromberg said life has been "a rollercoaster" but no matter what, she and her husband are "extremely proud of Murphy."
Working toward this summer's trials in Indianapolis, Murphy is also completing graduate school at the University of Texas with a degree in sports management. She said she looks back fondly on her journey thus far toward her Olympic dreams.
"Diving has given me so much: college, travels, friendships and the coaching that helped me become stronger mentally," she said.
Tami Kamin Meyer writes for the Columbus Jewish News from Bexley.