What started as an outlet for Bexley resident Wendy Almasanu and her family to show support for former Ohio Department of Health Director Dr. Amy Acton has helped spur the creation of an educational fund in Acton's honor at The Ohio State University in Columbus.
When the spread of COVID-19 first impacted the day-to-day realities of Ohioans in March, Almasanu and her family found some comfort in hearing Acton's updates during Ohio Gov. Mike DeWine's daily briefings.
"(Acton) was telling us what seemed truthful and honest," said Almasanu, a member of Beth Jacob Congregation in Columbus. "Because it wasn't all a rosy picture. She had facts to back up what she was saying and logically, it made sense to me. She addressed not only the scientific part, but also the emotional part. It affects everything."
Acton ended up leaving the position after she faced anti-Semitism, harassment, including protesters at times in front of her Bexley home, from some Ohioans who disagreed with recommendations to prevent the spread of COVID-19. But due in part to the support brought by a truthful picture of the pandemic from a trustworthy source such as Acton, Almasanu said she and her family created yard signs with "Acton Love" printed on them to show their support for the doctor.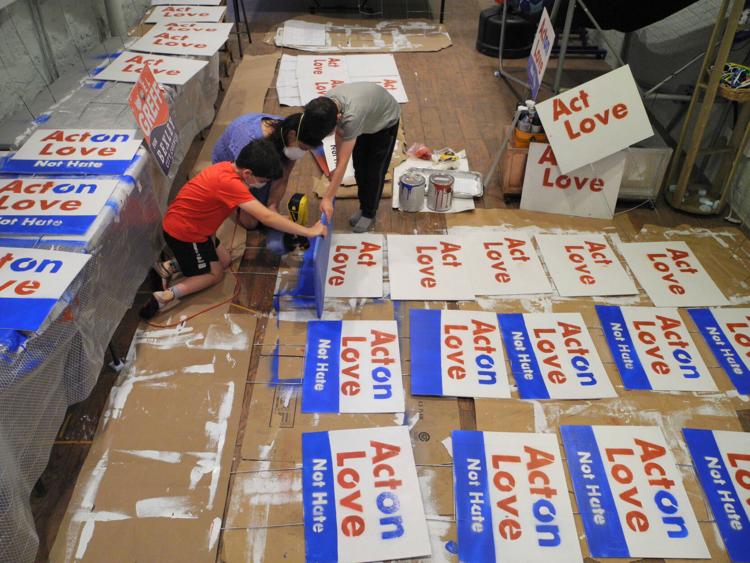 "I started to witness the harassment," Almasanu said. "(The protesters) came to her house. It could have been my house. They had anti-Semitic signs and had guns. It was threatening. This is in my backyard, I felt I had to do something."
Almasanu and her family have personal connections to the Actons as well; Acton's husband was Almasanu's husband's cross country coach, and he taught Almasanu's son. So Almasanu, who works professionally as a graphic designer, decided to use her talents to communicate her support in a visual way.
"(Sign-making) was something I could do," Almasanu said. "The kids were home and I thought that we could do it together, as a positive experience."
She said a community member donated old yard signs from a previous election campaign and initially she and her children, Max, 13, and Gabriel, 11, began to paint over the signs with her design, a process that was initially "time consuming" until she was able to streamline it. She started the sign making without asking for any donations, just giving them to community members who wanted to show support for Acton. But it dawned on Almasanu there may be a better way to fight back against the protesters.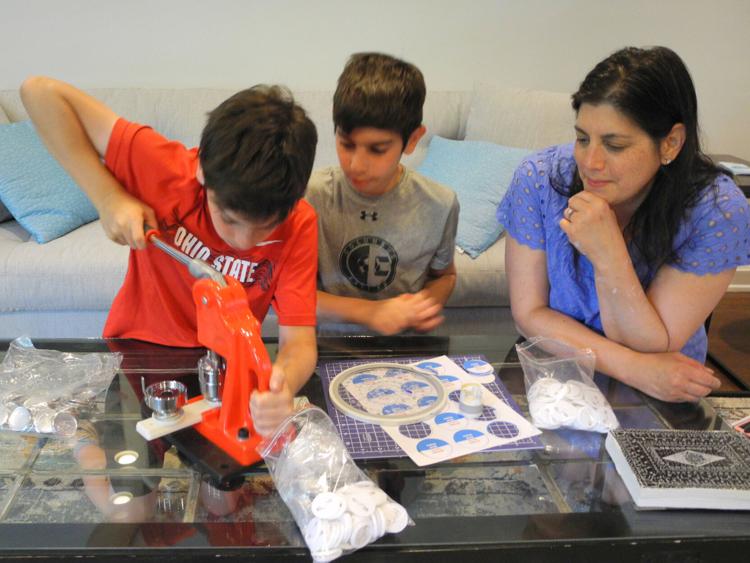 "Initially, we just wanted to let Dr. Acton know we supported her, even if the loudest ones were negative ones," Almasanu said. "When we started asking for the suggested donation, we said it would go to an educational institution in Dr. Acton's honor, but we didn't stop to think about which one. Then it dawned on me that she's an amazing leader, but we wanted the impact to be more long term. In Judaism, you honor people with education and that's a way to fight back."
Almasanu got in touch with Ohio State's College of Public Health, which used the funds raised to create the Dr. Amy Acton Future Leaders of Public Health Scholarship Fund earlier this fall. Funds will be awarded annually to one or more students with the intention of championing those who have overcome challenges and are eager to pursue a career in public health, according to the university's news release on the fund.
"This scholarship exemplifies one of our core values at The Ohio State University College of Public Health – making sure that all voices have the chance to be heard," said Amy Fairchild, dean of the College of Public Health, in a statement to the CJN. "We're tremendously grateful for the opportunity to support students who have overcome adversity and aspire to follow in the footsteps of the great public health leaders before them, including the incredible Dr. Amy Acton."
To view Almasanu's signs and other items, visit actonlovenothate.com.
---
Ed Carroll is a freelance writer from Cleveland.