While many fighting cancer hope to never see the masks worn for radiation treatments again, Columbus-based artist David Charlowe saw his as a souvenir of sorts. After completing radiation treatment for advanced lung cancer, he saw the masks as interesting pieces of art to display in his home.
Charlowe had the idea to ask 18 artists – representing "chai," or life – to develop the masks into true works of art, to display and hopefully benefit the radiation and lung oncology departments at the Arthur G. James Cancer Hospital in Columbus. 
The exhibit, "Tribal Nation," which Charlowe developed with his friend and Bexley artist Hani Hara, is on display at the Columbus Metropolitan Library's Carnegie Gallery in Columbus through June 23. The name reflects on the idea that those who have been through cancer and/or radiation are part of a "tribe."
"When my friend Hani Hara painted the first (mask) , it looked like a tribal warrior to me," said Charlowe, who worked as a photographer in the Columbus area. "Each mask, created by a different artist, testifies to a life affirming 'Tribal Nation' attitude and is a reminder that life has changed and been transformed in some way."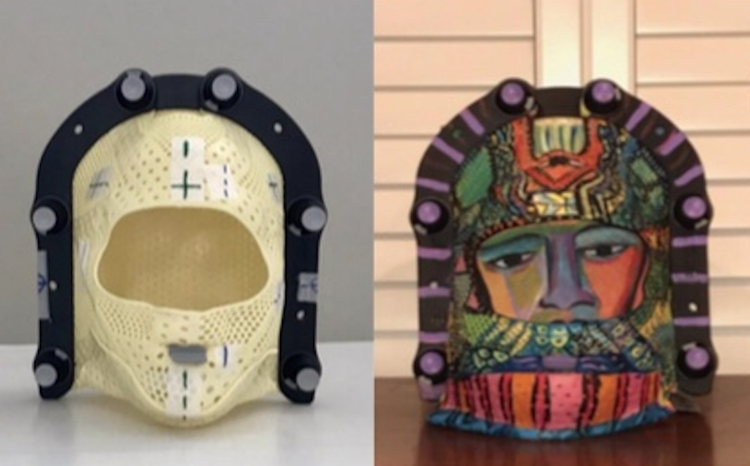 Doctors use such masks to designate spots to receive radiation. 
"Tribal Nation" is part of a larger exhibition at Carnegie Gallery, "Reflections," featuring art from former and current patients and staff of the James Cancer Hospital.
Charlowe said he saw creating the exhibit as a way to give back to the hospital departments and the "best" doctors he credits for keeping him going since he was diagnosed two years ago. Moreover, the masks are a way to produce something creative and positive out of the frightening experience of cancer. 
Five local artists – including Hara– and three out-of-state artists created masks displayed in the exhibit. Charlowe and Hara are still working to find artists to create the final 10 masks. 
Charlowe, who is affiliated with Congregation Agudas Achim in Bexley and Temple Beth Shalom in New Albany, said it was "incredible" to see the masks displayed in such a prominent place. He started designing his own mask but hasn't finished it. Charlowe said he was reluctant to be so public about his diagnosis and recovery but realized to draw attention to the project and raise money for the hospital, he needed to speak out. Moreover, he realized how many people are affected by cancer and may see relevance in the artistic masks. 
"I hope others affected with cancer will have a positive experience when they see the masks transformed to beauty, and know they are not alone in this battle," he said. "I hope through each mask, the viewers will see a symbol of heroic endeavor and strength and be moved to help the James radiation and lung oncology research programs."