At least a dozen people from Central Ohio joined the 90,000 people who packed MetLife Stadium in East Rutherford, N.J., Jan. 1, to celebrate reading the 2,711 pages of Talmud in as many days.
Rabbi Hillel Kapenstein, of the Columbus Community Kollel, was there, accompanying college students in the Olami program, along with several young professionals.
"I also got to see my dad who completed the Talmud," Kapenstein said of his father, Rabbi David Kapenstein of Atlanta, Ga., who directs a Kollel, or study house, there. "This was his third cycle completing it. It was pretty special. The highlight was the singing and dancing after the completion, after the Kaddish."
Kapenstein said the Jewish nation came out to participate, even in the wake of rising anti-Semitism.
"The nation's resilience is so strong, there's not one person that can stop us," he said.
In addition to the 90,000 at MetLife Stadium, there were an estimated 20,000 more at Barclays Center in Brooklyn to celebrate the finishing of the reading of the Talmud in the seven-plus year cycle.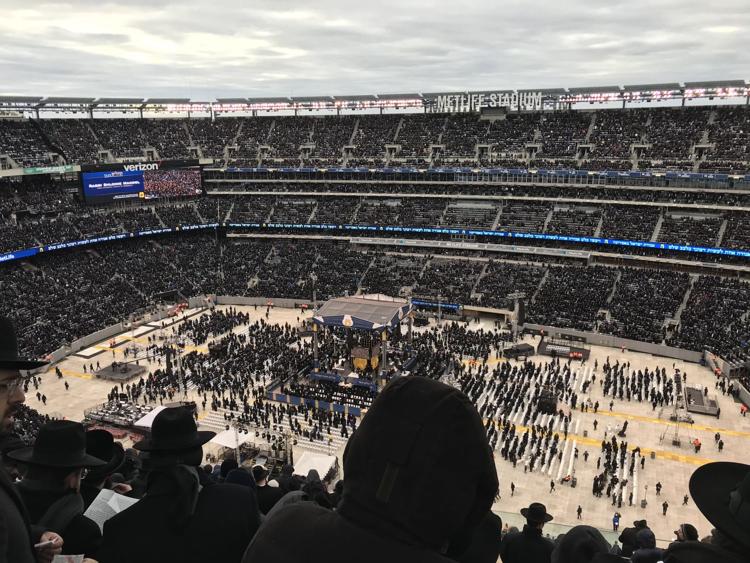 Jay Schottenstein recited the kaddish, in memory of his late father, Jerome Schottenstein, who began to underwrite the translation of the Schottenstein Edition of the Talmud by ArtScroll Publishing Company. This edition includes English translation, elucidations and footnotes with context.
"Jeanie and I – along with our children – were overwhelmed by the number and diversity of people participating at the Siyum HaShas held recently in MetLife Stadium as well as locations all around the United States, Israel and worldwide," Schottenstein said. "It is amazing that in a short period of time the study of Talmud has been transformed.
"Along with Artscroll Rabbi Nosson Scherman, Rabbi Meir Zlotowitz, of blessed memory, and his son, Rabbi Gedaliah Zlotowitz, we are proud to be a part of this transformation," he said. "There is no greater honor for us than to have the Siyum HaShas dedicated to the memory of my father, Jerome, of blessed memory, and to see so many people make the Talmud a part of their daily lives."
Columbus-based Schottenstein Stores Corp. was a sponsor of the event.
A cousin of Jay Schottenstein, David Schottenstein, leads a page-a-day Talmud class in Columbus and finished the Talmud at the end of the cycle.
Rabbi Shaul Rivkin of Cleveland Heights, a Cleveland suburb, was among thousands at the stadium who finished the Talmud on the schedule initially set by Rav Avraham Yitzhak HaCohen Kook, Israel's first chief rabbi.
Rivkin said he read Talmud on the day his son was born, in airports and at jury duty. He studied mostly alone, but occasionally worked on the endeavor with others he met in his travels.
A CPA, he often stayed up late to fulfill the daily obligation even though he also attends daily minyan at 6:30 a.m. at Congregation Ahavath Israel in Cleveland Heights.
"It's this global community of people all studying the same page," Rivkin said. "There's a lot of hidden depth. Every time you go through it, you always find something more in it."
Rivkin said he spent a minimum of 15 minutes a day on the endeavor, but on more opaque texts, up to an hour. Occasionally, he spent the minimum time one day, and went back to do more in-depth study the following day on the same page, as well as studying the next.
He said he has no specific favorite sages of the Talmud or favorite passages. He often found connections and relevance to his daily life as he studied.
"It's like your kids," he said. "You love each of them."