Corey Goldsand, the new executive director of Wexner Heritage Village, told the Columbus Jewish News he will apply his years of experience in health care management and his personal and professional ties to the Jewish community to lead Wexner to greater heights.
Goldsand, who took on the role Jan. 3, is responsible for overseeing the 70-year old network of independent and assisted living, memory care and skilled nursing and hospice facilities. In his new role he also will manage Wexner's first-ever partnership with an outside entity, the Marion-based United Church Homes Management.
Goldsand's experience includes leadership roles with Wexner since 2020, where he had served as chief human resource and compliance officer as well as general counsel, and his 14 years in leadership at Cardinal Health in Dublin.
"Part of my role at Cardinal Health was to help to set the vision for the areas that I run and the goals that I ran for them," Goldsand said. "And so that is what I'd want to do here. And while my title of executive director for Wexner Heritage Village is new, I've been with Wexner Heritage Village for the past three years. So, I am deeply invested in our mission and the future of our teams and the organization. ... I'm excited to serve in this role during a very unique moment in our history of organization."
Goldsand said his goal is to "preserve and extend the legacy of compassionate and high quality care, to sustain the vibrant community we have (and) to bring more light to every moment of senior living, which is part of our mission." He said he's also "focused on continuing our strong community connections and strong working relationships with Jewish community partners."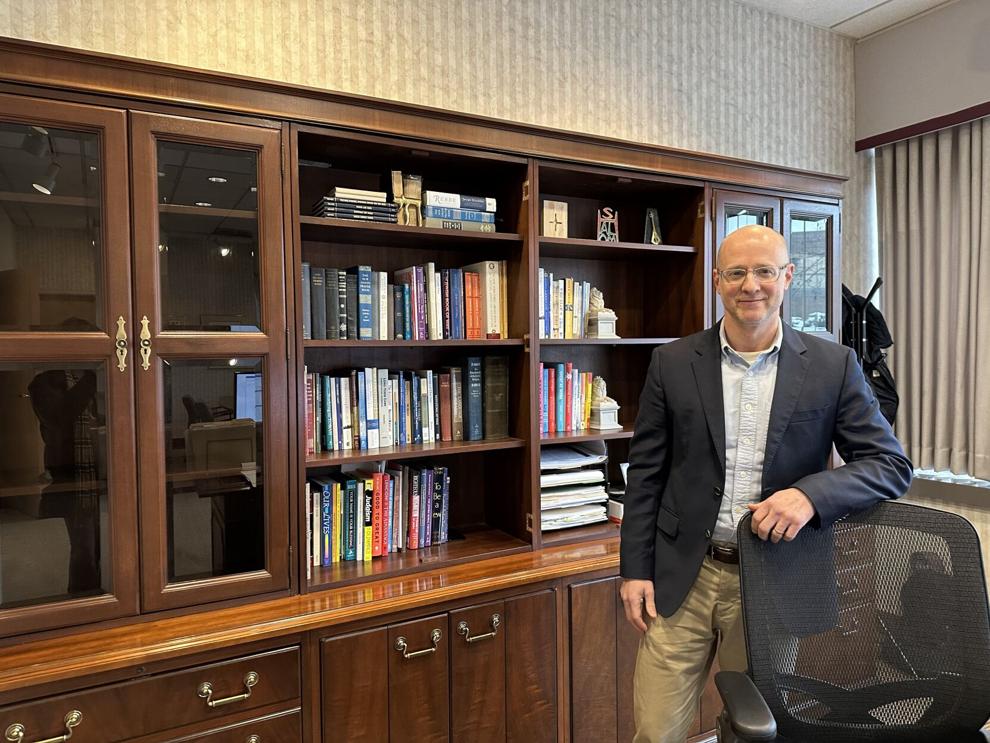 Beyond his professional experience, Goldsand told the CJN that his Judaism and personal ties to the community inform his work at Wexner.
Goldsand said his connection to the community goes back to two decades since he first moved to the area and includes his membership at Temple Israel in Columbus, where he has twice served on its board of trustees.
"I am committed to furthering and strengthening our ties to the Jewish community," he said. Wexner is "the leading senior care organization to the Jewish community and I believe that we don't talk about that enough."
The Jewish values he believes in and that typify what Wexner stands for has to do with acceptance of all people, Goldsand said.
"At the core, we believe that all people are created in God's image, are all endowed with infinite value and that every person that we engage with should be treated with dignity and respect," he said.
This dedication to the Jewish character of Wexner comes as the organization partners for the first time in its 70-year history with an outside entity, the United Church of Christ-affiliated United Church Homes Management, Inc. Goldsand said this new partnership will not change Wexner's Jewish character, but will provide the necessary resources and training to ensure the best possible care for residents despite the challenges senior living facilities face across the country. He said these challenges include gaps in reimbursement, workforce challenges and rising costs, especially after the COVID-19 pandemic.
Goldsand said he and other members of the Wexner leadership team consult with United Church Homes through on-site meetings and discussions over the phone. United Church Homes also sends experts to Wexner for in-person training.
"It's an exciting opportunity at an exciting time," he said of the partnership. "United Church Homes brings just a new level of support and services and solutions. We get to tap into their extensive expertise, training and developing to industry best practices. And they also have a large organization and bring a new level of purchasing power, as well."
United Church Homes operates 85 senior living communities in 15 states and two Native American nations, Goldsand said. According to its website, in Central Ohio, its communities are Polaris Community in Columbus, Columbus Colony for Elderly Care in Westerville, The Hamlet on Darby in Plain City and Mansfield Memorial Homes in Mansfield.
"They have broader scale and expertise because of their size," he said. "They are a multi-site organization and its about leveraging broader services and solutions and resources and allowing us to tap into their expertise which allows us to do what we do best, providing care for seniors."