Ohio Gov. Mike DeWine is requesting a curfew for liquor sales at 10 p.m. in bars and restaurants.
DeWine asked the Ohio Liquor Control Commission to call a meeting to consider the curfew on liquor sales at 10 p.m. nightly. Any alcoholic drink purchased before 10 p.m. must be consumed by 11 p.m.
The rule will be applied to any business with a liquor license.
The commission will hold the emergency meeting July 31 at 9 a.m. If the rule is approved, DeWine said he intends to sign the executive order, which it will go into effect later that day.
"We do not want to shut down Ohio bars and restaurants, but we do have to take some action and see what kind of results we get from this action," DeWine said.
Restaurants that serve alcohol are included, but the rule will allow any liquor-permitted establishments that sell food to continue serving meals until closing.
While most establishments are adhering to guidelines, DeWine said the state's investigative unit has reported some are in violation, citing full patios, bars and dance floors.
Businesses can stay open but DeWine said he believes that the stopping of alcohol sales at 10 p.m. for onsite consumption will help thin out the crowd and slow the spread of the coronavirus.
The commission will also consider raising the number of alcoholic drinks that can be purchased with a meal to-go from two to three.
"There is some inherent problem with bars," DeWine said. "They do lend themselves to people going in and out in close contact with each other many, many times indoors. Patrons either stay at one location sometimes for a long time or they go from bar to bar. Either way, they're interacting with a lot of different people and this is especially true with our younger crowd."
The statewide curfew comes after Columbus attempted to administer its own citywide curfew that would have stopped the sale of alcohol at 10 p.m. A judge blocked the ordinance to hear concerns brought forward in a lawsuit by local bar owners.
DeWine also announced that the 10-person mass gathering guidance will be moved back into a separate order.
He said the order will be the same in most ways, but it will offer clear recommendations to remind Ohioans when gatherings can be done safely.
The guidelines include:
Gatherings at a household or family residence should be limited to close friends or family and are recommended to be 10 visitors or less
Residents in a red or purple county as indicated on the Ohio Public Health Advisory System should limit hosting or attending gatherings of any size.
A mask should be worn at all times at gatherings and physical distance should be maintained.
Use take out, outdoor dining or indoor dining only when strict social distancing can be maintained.
Take extra precautions if you go to bars or clubs, where use of masks typically is inconsistent and drinking alcohol can lead to less social distancing
Protect anyone with serious medical conditions at home by social distancing, wearing a mask and high levels of hygiene.
High-risk individuals should take extra precautions to limit the number of people they interact with.
Make the group of people you interact with most often as small as possible and make sure that they are taking appropriate precautions.
The announcements come after the Ohio Department of Health reported the highest daily coronavirus cases with 1,733 new cases on July 30, which DeWine called "not good news."
There were 1,049 individuals who were hospitalized July 30 compared to 1,017 on July 17. DeWine noted the trend continues to steadily increase, though there are fewer people coming into the ER for coronavirus.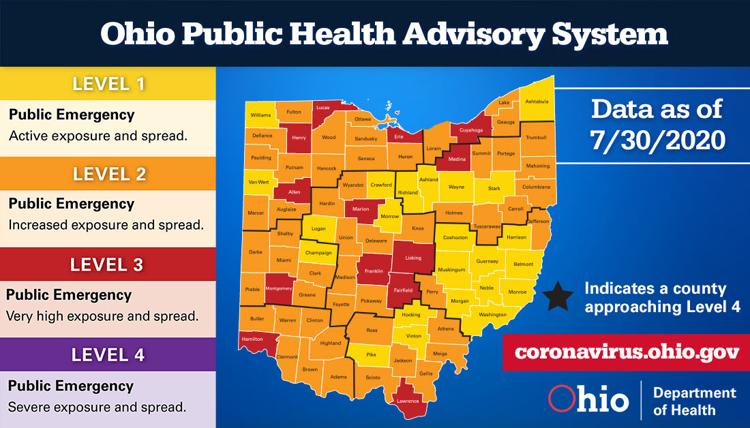 Thirteen Ohio counties have been deemed at the red level on the Ohio Public Health Advisory System, a decrease from last week when 23 counties were deemed red.
Red is the second highest level on the system, meaning there is very high exposure and spread of the virus. Franklin County remains at the red level.
The Ohio Board of Pharmacy reversed its new rule that would ban the sale of hydroxychloroquine and its use to treat coronavirus after being called on to do so by DeWine.
He said the process that the board used to arrive to the original decision was "flawed."
"It really did not provide enough opportunity for people to comment and what they should have done, I believe, is have full hearing on this … and really sought out additional medical advice in regard to do this," he said.
As governor, he said he does not have a position in regard to the use of the drug.
"We should leave this up to science," he said. "We should leave this up to the experts."
Ohio has 89,626 total cases of COVID-19 and 3,442 total deaths, the Ohio Department of Health reported July 30.
The total number of individuals who have been tested in Ohio is 1,441,708. The daily percent positive is 6.0%, with a seven-day moving average of 6.1%, according to data from July 28.
The individuals who have tested positive range in age from less than 1 year old to 109 years old, with a median age of 42.
The ODH reported 20 new deaths on July 30. The median age of those who have died is 80.
The ODH reports 10,678 individuals have been hospitalized, and 2,534 have been admitted to the ICU due to the coronavirus. The median age of those hospitalized is 63.
The ODH reports 64,311 individuals are presumed recovered – defined as cases with a symptom onset over 21 days prior who are not deceased.
Franklin County accounts for 16,630 of the cases, 1,412 hospitalizations and 507 deaths.
If you have questions regarding COVID-19, call 833-4ASKODH (833-427-5634) or visit coronavirus.ohio.gov.