Little did Rabbi Tuly Weisz know when he walked into the Easton Barnes & Noble bookstore in Columbus a decade ago that one day the shop would host his book signing during a visit from his current home in Israel.
And Weisz didn't just pen and edit any book. "The Israel Bible" is 2,200 pages focused on the land and people of Israel and the unique relationship between the two. 
According to Weisz, who spoke to an audience of more than 40 Aug. 12, the seeds for the book were planted when he started pondering the variety of Bibles on the market. Surely, he thought, when he searched the bookstore's shelves he would find at least one Bible devoted to Israel among the cacophony of available works. Much to his surprise, he found nothing.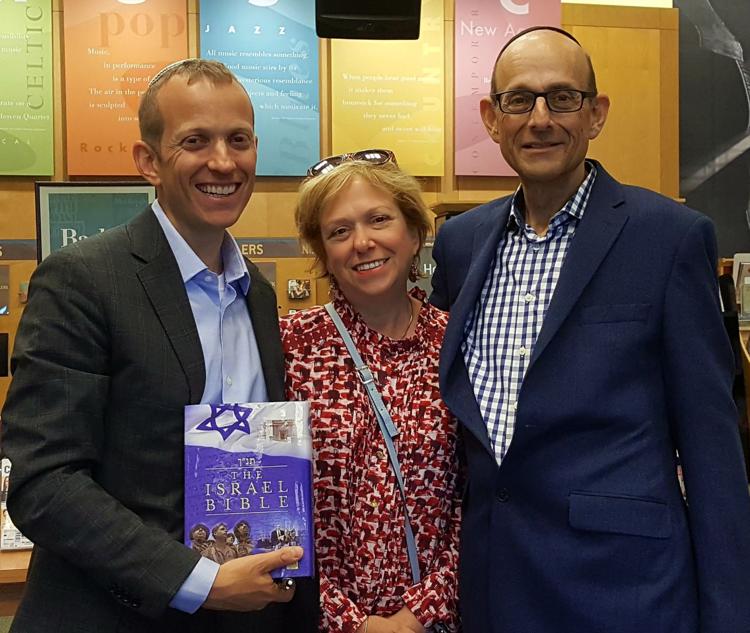 Afterward, "I pulled my ArtScroll Tanakh off my shelf and went through it every day, underlining all the passages about Israel in my Hebrew Bible," Weisz said. 
As the number of passages grew, he decided to organize them in book form so anyone could peruse them. 
"The point of my research was to investigate just how many times Israel came up in the Bible, and I was shocked that it appeared in nearly every chapter on every page," he said.
Prior to making aliyah, Weisz was rabbi of the Beth Jacob Congregation in Columbus. His parents are Berwick residents Michael and Chanita Weisz. 
Weisz, the grandson of Rabbi David Stavsky, who led Beth Jacob Congregation for 46 years, grew up in awe of his grandfather. In fact, after Stavsky's death in 2004, Weisz and his wife returned to Columbus so he could assume his grandfather's former rabbinical post, a position he held from 2006 to 2011.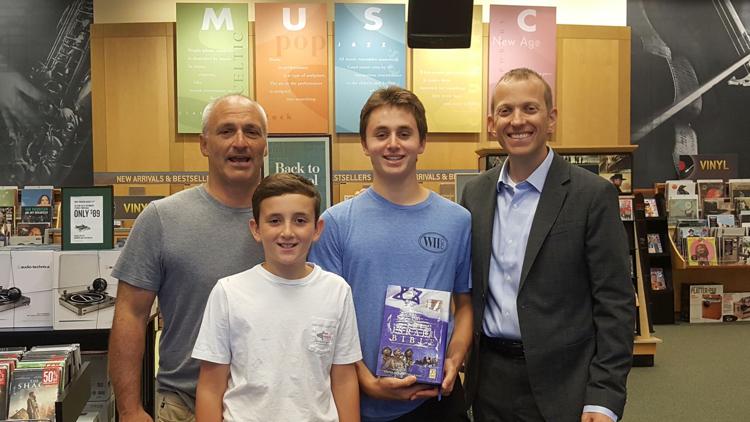 Weisz is now founder and CEO of Israel365, a digital marketing firm and publishing house to connect Jews in Israel to Christians in the United States and around the world.
As thrilled as he is with his research's final outcome, Weisz admitted he might not have embarked on "The Israel Bible" had he appreciated the enormity of the task. 
"I'm glad I didn't know," he said. 
What began five years ago as a compilation of references to Israel written by Orthodox Jewish scholars evolved into a book gaining recognition among Jews and non-Jews alike.
"There are hundreds of millions of evangelicals and nearly that many reasons (why) they love Israel," he said. "Many Christian Zionists love Israel simply because God loves Israel and not because of any scary, doomsday scenario. As far as the end of days, Jews also believe the people of Israel will return to the land of Israel for the Moshiach to come and so I believe that its entirely appropriate for Jews today to work closely with Christians since what unites us is so much stronger than what divides us."
Bexley resident Jonny Young and his wife and three children attended Weisz's book signing. He said he and Weisz have been lifelong friends and Weisz performed b'nai mitzvah for two of the Youngs' children at the Western Wall in Jerusalem in 2014. 
"I am proud of him," Young said. 
Weisz also spoke at Beth Jacob Congregation and Charisma Life Ministries in Columbus during his visit. 
According to Weisz, "the battle for Israel" is being fought among American college students. 
"Anyone concerned about the next generation of Jews must encourage our young people to go back to the basics and read the Tanakh, which from its opening verse makes the strongest claim that every inch of Israel belongs eternally to the Jewish people," he said.
Tami Kamin Meyer writes for the Columbus Jewish News from Bexley.