Jill F. Helfman, co-partner in charge at Taft Law in Cleveland, and Paul J. Singerman, chairman of Singerman, Mills, Desberg & Kauntz Co., LPA in Beachwood, were the guests of honor at ORT America Ohio Region's virtual 2021 Jurisprudence Awards & 50th Annual Brunch Celebration Oct. 28, receiving the titular award.
The group's highest national honor, the Jurisprudence Award is presented to members of the legal community who have established new directions for the enhancement of their profession and serve as role models for other professionals. Helfman was previously honored by the Cleveland Jewish News as a member of the inaugural class of its 18 Difference Makers in 2015.
In opening the event, Greg Marcus, ORT America Ohio Region's board president, said the combination of the Jurisprudence Award reception and annual brunch, specifically in its 50th milestone year, has been a focal point of the organization's work since 1972.
Helfman's honor was introduced by Shawna Rosner, an ORT America Ohio Region board member. Rosner detailed Helfman's history of giving back to the community and being an involved wife and mother, all while working as a full-time family and divorce lawyer.
"She does it all with grace, and without skipping a beat," Rosner said. "She is truly an inspiration to all who know her. … Devotion, commitment, generosity and genuineness are words that I would use to describe the Friedman-Helfman family."
After receiving her award, Helfman spoke of her father, David Friedman, who passed away July 4.
"As I was growing up, I remember observing the way he practiced," she said. "… I watched with great admiration his unselfish contribution to the greater good. Watching him become successful in his career and still insisting on giving back to the community, I knew the trajectory for which I sought to focus both my professional career and my personal life. … My father was thrilled beyond belief that I would be honored, and I dedicate this award to him."
Gary Desberg, principal at Singerman, Mills, Desberg & Kauntz Co., LPA, presented Singerman's award, saying he is "the first person in the office and the last person to leave."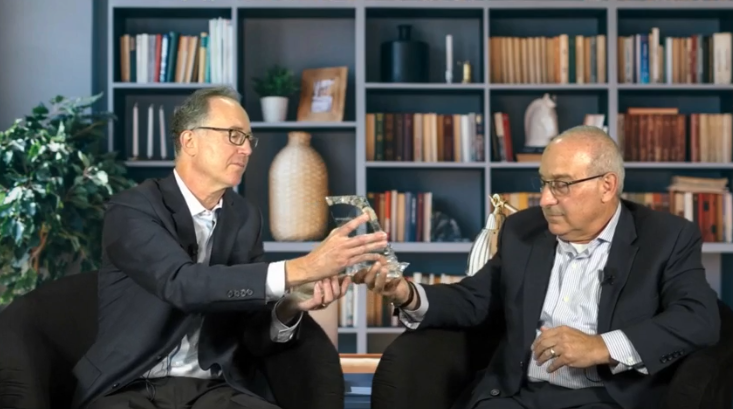 "He has always had an open-door policy," Desberg said. "Anyone – from partners to associates – could always have his ear. For Paul, taking the time is no problem. His reputation professionally, personally and in the community are spotless, and I'm grateful that our paths crossed serendipitously 35 years ago. I'm thrilled to be able to call Paul a great friend and a great business partner."
In accepting his award, Singerman said the award was meaningful to him, as the event fell on his father's yahrzeit. He passed away three years ago.
But in response to why he received the award, Singerman said, "Over the years I've been asked by lawyers in the firm which organizations they should become involved. When asked that question, I respond that you should not become involved with nonprofit and community organizations with an eye toward your legal career. Rather, you should find something that you are passionate about. … Because you believe in the organization and its mission."
Additionally, Jill G. Okun of Porter Wright Morris & Arthur LLP in Cleveland, received the Robert Sill Leadership Award, which is given to an "ORTist" who shows a passion for ORT's global mission, the global Jewish community and Israel. Those who receive this honor are able to travel to an ORT school or program, in honor of its namesake's dedication to ORT. Sill died in 2018.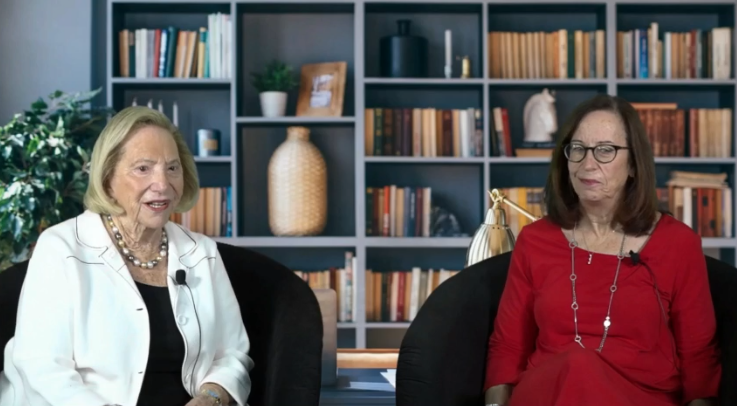 The award was presented by Sill's wife, Eileen Sill.
"I am honored and humbled to receive this prestigious award," said Okun, who co-chaired the event with Kenneth B. Liffman of McCarthy Lebit Crystal & Liffman in Cleveland. "I want to thank the Sill family for all you have done for ORT, especially Bob Sill for his years of leadership and dedication to ORT and the important legacy you have left through this award."
Okun added she plans to travel to Israel post-pandemic to see the Kfar Silver Youth Village on her ORT trip.
Liffman closed the event, thanking event sponsors and viewers for their support of ORT America's mission.
"On behalf of the Ohio region of ORT America and ORT students around the globe, thank you all for joining us tonight," he said. "Each of us is aware that our education was key to the opportunities we have in our life today and the success we've achieved. By supporting ORT with your time and money, you provide approximately 300,000 kids around the world the same kinds of opportunities to receive the education and training they need to succeed in life."
The Cleveland Jewish News, the sister newspaper of the Columbus Jewish News, was the media sponsor of the event.
---
Publisher's note: Paul J. Singerman is chairman of the Columbus Jewish Publication Company Board of Directors. Greg Marcus is a member of the CJPC Board of Directors.