The city of Columbus and Mayor Andrew J. Ginther hosted a virtual interfaith experience Nov. 17, where leaders from diverse religious and cultural communities in Columbus shared messages of coping, struggle, encouragement and hope.
The program was the fourth installment of the city's interfaith experience, a vision of the mayor's that began in March, said Almar Walter, director of community affairs in the mayor's office.
"We all know we are in a time of great disruption, battling the biggest challenges most of us have ever faced and hopefully ever will," Ginther said. "Every aspect of our daily lives has changed, including how we practice and express our faith. But as we hold firm in our commitment to practice social distancing for the health and well-being of ourselves, our neighbors, our faith is not diminished and our faith communities continue to thrive if in a different format."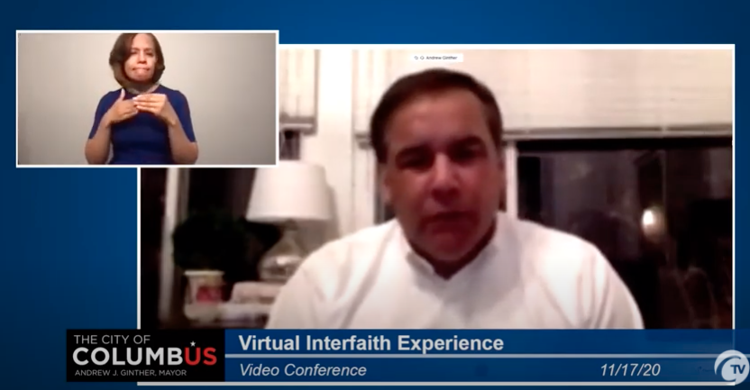 Interfaith speakers included: Rabbi Debbie Lefton of Wexner Heritage Village, Rev. Joan Van Becelaere of Unitarian Universalist Justice Ohio, Steve Connor of Columbus Ohio Baha'i, Senior Minister Vince Ford of Church of Christ at Genessee Avenue, Senior Pastor Eddie Parker III of The Word Church, Senior Pastor Mike Ortega of New Beginnings Church, and Aysenur Yagci of Turkish American Society of Ohio.
Each speaker offered prayers relevant to today, as well as shared their community's experience during this time.
"I pray that our community here in Columbus, the world's community, continues to fight this virus – that we don't become too tired out, that we gain strength from prayer and we can all begin to heal," Lefton said.
Lefton also described the toll isolation is taking on everyone, but seniors especially, during the pandemic. She shared that one WHV resident told her last week he was "so lonely – he prays for a hand to hold, somebody to embrace him."
"So many of our seniors who have a touch of memory loss or dementia just don't understand those window visits," she said. "They don't understand, and it's frustrating. They want their loved ones to be able to come in and embrace them."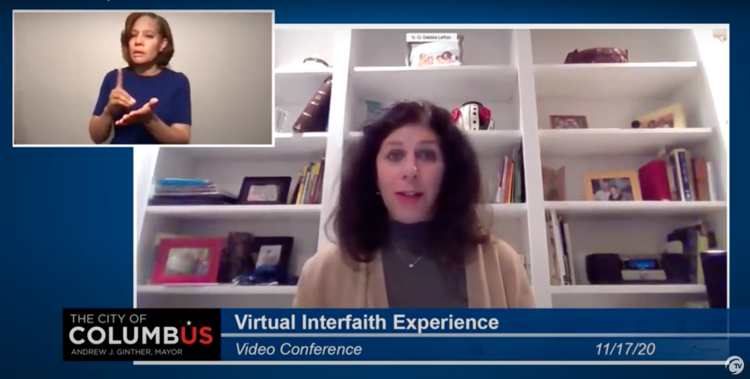 After Lefton concluded with a prayer for protection, Van Becelaere discussed how after the divisive election season it may be difficult to feel as though "we are all in this together," but urged the power of community.
"Our anxiety is cutting us off from the very resource that could help us the most in difficult times, and that is strong relationships with others in our community," she said. "But there is hope because I believe we can learn to speak with one another again as valued human beings – even through our masks – if we choose to do so."
Representing the Baha'i community, Connor shared background on his religion – the youngest worldwide religion joining the event, he said – and noted "the message of the Baha'i faith is one of infinite hope."
During his portion, Parker said we are living in a time of "hate and violence," specifically noting the impact of racism and the pandemic on local youth. He said some of those young people are "trapped in a society where they have nothing to look forward to, trapped in a society where they are economically disadvantaged, brutalized by police, marginalized with implicit bias and racial injustice. And they are killing each other, which is inexcusable for any reason."
"In the midst of all of this, I must, you must, we must offer ourselves, put ourselves in harm's way and go to our youth in Columbus and give them something to look forward to," he said.
Ginther concluded the evening with a push for residents to stay home to stem the spread of COVID-19. The next day, his office, Columbus Public Health and Franklin County Public Health announced a stay-home advisory for the city and county.
"We all have a role to play in these challenging times – no effort is too small," Ginther said.