Based solely on the smiles of the 200-plus people who attended The Shabbat Project's Challah Bake Nov. 21 at the Jewish Community Center of Greater Columbus, one could say the event was a success.
"I mean, who doesn't love challah," said Matan Gutwaks, who attended as a participant and as support for his wife, Alison, who led the assembled bakers through the challah-making process.
A partnership of the JCC and JewishColumbus, the local event was one of 1,685 Challah Bakes held that weekend in 106 countries worldwide. Founded by Rabbi Warren Goldstein, the chief rabbi of South Africa, The Shabbat Project was created as a way for Jews around the world to come together and celebrate one Shabbat.
In Columbus, Jewish a cappella group The Maccabeats performed Nov. 24 at Congregation Tifereth Israel to wrap up The Shabbat Project weekend.
According to Shana Beigelman, the JCC's director of adult activities, The Shabbat Project in Columbus "is about the experience of actually keeping Shabbat," she said.
Alison Gutwalks, who is a kosher personal chef for her company AliBabka, said she was excited about the part she was playing.
"I'm honored to be asked to do this," she said, adding that her role during the event wasn't so much as a baking teacher but rather, "... giving people confidence. I hope that people leave with a feeling that this is something they can do at home and keep this tradition going."
While Gutwalks led from the front of the room, seasoned Challah Bake coaches mingled among the budding bakers to help monitor measurements. One of those coaches, Laurie Alexander, said it was a great feeling to be a part of the night and she also hoped participants would be inspired to bake on their own.
Columbus Torah Academy teacher Leah Savage said she found inspiration in the diversity of those in attendance.
"It's wonderful to have so many people of all different religious denominations come together to celebrate this event and this community," Savage said.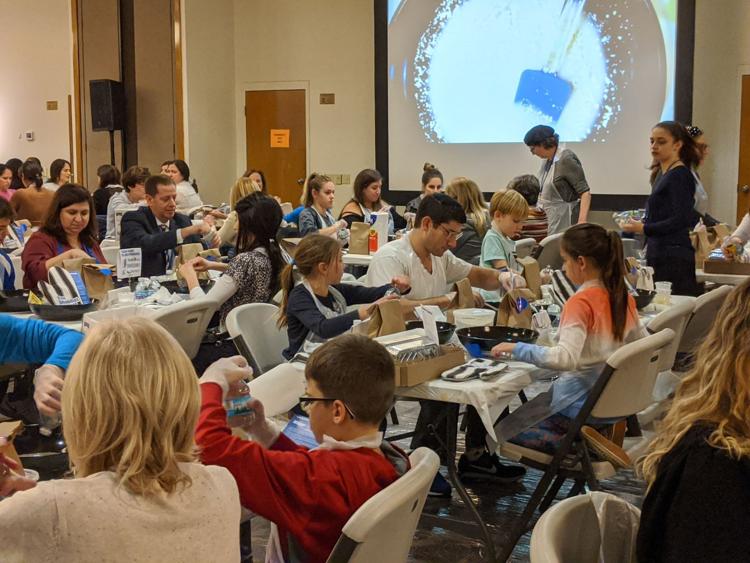 At various points during the evening, the group took breaks to give the yeast time to activate and, later, for the challah dough to rise, be punched down and rise again. This gave attendees a chance to connect and, in some cases, make new friends over refreshments.
Shelly Salutsky, who was baking with her mother-in-law, Kris, said she was excited about the spiritual aspects of the night's activities.
"It's a mitzvah to make challah," she said.
They attended last year's Challah Bake for the first time and decided to make it an annual tradition.
"We were excited to be here to get a little mother/daughter time," said Michele Bernstein, who was baking with her daughter Allison.
Bernstein's friends Angie and Karen Meyer also participated, and Angie said she was happy to have "this connection with Jewish culture."
Walking the floor of the event, Matan Gutwalks smiled at the flour-covered tables and the sound of happy chatter that filled the air.
"I love that this is all happening at the JCC," he said. "It really is a community center. I love that we can all come together here to make something as important both religiously, and personally, as challah."
---
Noell Wolfgram Evans writes for the Columbus Jewish News from Columbus.