New Albany City Council recognized Rabbi Areyah Kaltmann for his many years of service to the city and its Jewish community during its city council meeting May 16 at village hall.
Kaltmann, who is the executive director of Chabad Columbus and the Lori Schottenstein Chabad Center in New Albany, was honored with a proclamation from New Albany president pro tempore Marlene Brisk.
"This is a proclamation honoring Rabbi Areyah Kaltmann for his many years of service and dedication to the city of New Albany and beyond," Brisk said at the meeting. "For the past 32 years, Rabbi Kaltmann has performed countless weddings, funerals, brises and baby namings … and poured his heart and soul into serving our community as a spiritual mentor, teacher and rabbi. On behalf of the council and residents of New Albany, (we) wish to honor Rabbi Areyah Kaltmann and express our gratitude for his dedication, leadership, caring and service."
In his acceptance speech, Kaltmann said, "I'm very, very humbled to live in the destination city for the entire state of Ohio. There is no other better place to raise a family than our New Albany."
Kaltmann and his wife, Esther, arrived in Columbus in summer 1991 after the late Rabbi Menachem Schneerson selected them to be Chabad ambassadors. The Kaltmanns took over as directors of the Chabad Center in 1995. He has been a fixture in the Central Ohio Jewish community, where he serves as the director of LifeTown, a realistic, mock indoor city housed at Chabad, designed to teach life skills to children with disabilities.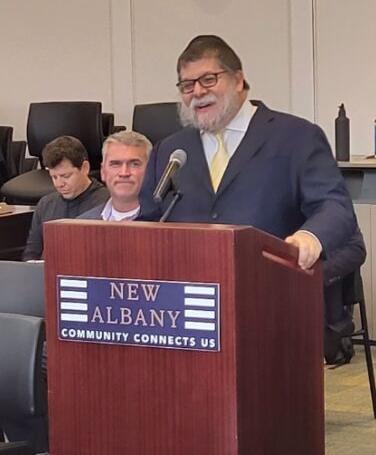 "When we open up the door, we don't just open up the door to LifeTown – we open up the door to a world of possibilities which were unfortunately closed very tightly for our kids," Kaltmann said.
Kaltmann said he is particularly passionate about LifeTown's Stop to Live program, which works specifically with children with disabilities to boost their confidence and discourage them from drug use.
"It's absolutely frightening what's happening (with) opioid abuse," Kaltmann said. "We plan to expand that program to save as many lives as possible, and this is only because we live in such an incredible, incredible city where we can all work together."
When it comes to his work with Stop to Live, he said he is particularly concerned with addressing the issues of fentanyl use and teen suicide.
"There's repetition and there's role play, and that's what distinguishes Stop to Live as an enjoyable program where we elevate the child and we make the student feel that they're special," Kaltmann told the Columbus Jewish News after receiving his award. "And if you have a Rolls-Royce, you don't go around breaking the windows of a Rolls-Royce. So, our children have to know that each and every one of them is precious, each and every one of them is valuable. And when we take our students, our children, and we elevate them to (higher levels) of self-esteem and self-worth, they won't want to ruin their lives with addiction."
Kaltmann credited the more than 1,300 volunteers who help with his programs.
"I'm humbled, and any recognition really belongs to all the people I work together with," Kaltmann told the CJN. "The award and any recognition I get really belongs to them."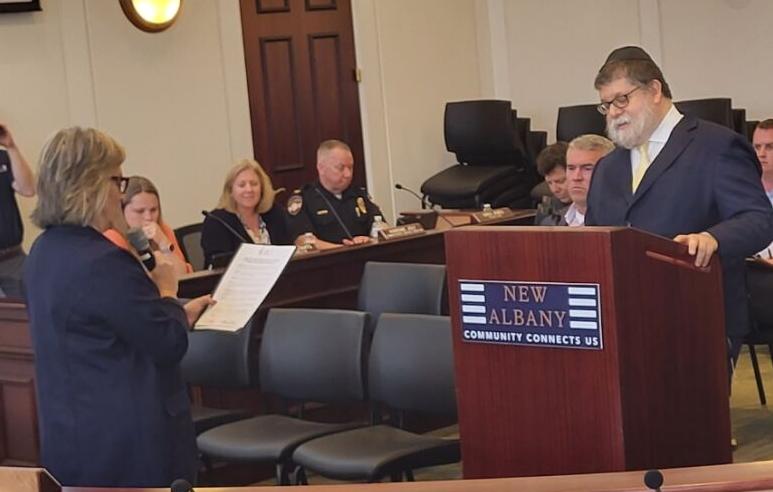 Kaltmann said he knows the job will never truly be complete.
"There's plenty more work to be done, and if there's one person out there in pain, then that's our pain, that's our obligation to do something about it," he told the CJN.
Kaltmann was introduced by his friend, Allan Wool, a longtime New Albany resident, who gave him a glowing endorsement.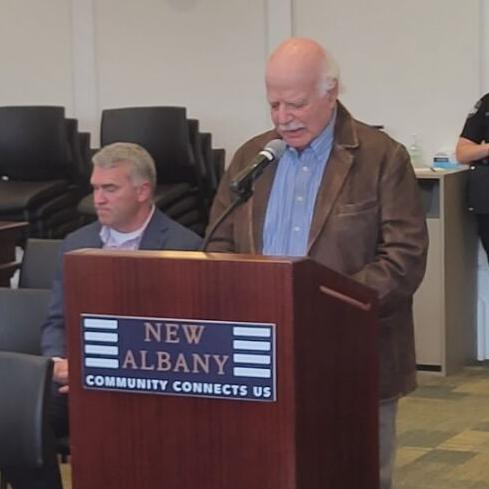 "Not only has (Kaltmann) provided a vehicle for less-privileged and special-needs children to grow and prosper, but he is also there for anyone in need, Jewish or secular," Wool said. "He is truly a giver and by no means a taker. It gives me great pleasure to introduce a man who needs no introduction, a man who I am privileged to call my friend, Rabbi Areyah Kaltmann."
In addition to honoring Kaltmann, the city of New Albany also recognized the Jewish community as a whole. Mayor Sloan Spalding read a proclamation in support of Jewish American Heritage Month, which was celebrated in May.
"In May of 2023, hundreds of organizations and communities across the United States will join together to help people of all backgrounds discover, explore and celebrate the vibrant culture, cultural contributions, and the variety of experiences of our Jewish heritage," Spalding said.
Ben Blotner is a freelance journalist.