NEW YORK CITY – More than 100 Clevelanders were welcomed with shouts of joy and astonishment as they marched through Manhattan, joining more than 25,000 people in a "No Hate. No Fear." march on Jan. 5.
The Cleveland contingent included two busloads-plus of Northeast Ohio Jews and four local clergy members.
Eric D. Fingerhut, president and CEO of Jewish Federations of North America, made the rounds among Clevelanders at Foley Square just prior to the beginning of the march. A Cleveland native, Fingerhut was a U.S. congressman from 1993 to 1994 and an Ohio senator from 1997 to 2006. He also served as the chancellor of the Ohio Board of Regents in Columbus from early 2007 to 2011.
"There was a real strong need for a moment like this," said Fingerhut, who moved into Jewish communal leadership at Hillel International prior to assuming his new role last August. "We know that Jews are safe in America, but we also know that individual incidents terrorize people and scare people. So, we have a commitment to make sure we feel safe every day all the time."
With temperatures in the low 30s and a light wind, sunny skies added a touch of warmth to the marchers, who moved slowly across the Brooklyn Bridge with ready-made and handmade signs with simple messages, such as "Stop the Hate" and "Never Again Means Never Again."
Some quoted biblical passages to drive home the point. Some waved flags.
U.S. District Judge Dan Aaron Polster, who traveled on one of the buses from Cleveland, said, "I've been marching for 50 years, since 1969 and when I saw the opportunity (come) in (Jan. 2), I said I'm in. What I'm most thrilled about is that in a few minutes I'll be joining my daughter, niece, nephew and cousin, all of whom live in New York City.
"I emailed them and said I was coming, would each one meet me? They all said yes. The most important thing is to have our next generation exercising their First Amendment rights and standing up to be counted." Polster is a member of Congregation Shaarey Tikvah in Beachwood, a suburb of Cleveland, and Park Synagogue in Cleveland Heights and Pepper Pike, also Cleveland suburbs.
His previous marches were primarily in Washington, D.C., where he protested the war in Vietnam and to free Soviet Jews.
"Then I came with the Federation group to help protect people in Darfur a couple of years ago," he said.
At Foley Square, onlookers stood on the sidewalk behind barricade fencing silently or offered support with signs or words as marchers walked down the center of the blocked off street in Manhattan.
Some of the marchers sang "Am Yisrael Chai" on the way. The lyrics translate to "The People Israel Live," and that was a theme at the rally, as well.
Photographers and videographers filmed the march along the way, standing on benches and raised curbs on the bridge. Police officers dotted the route, particularly at intersections.
There was a silent counter-protest staged by ultra-Orthodox men near Cadman Plaza. They bore signs that read, "We appreciate solidarity with Jews but the state of Israel is not the answer."
More than a dozen people spoke at the rally, including Brooklyn rabbis, heads of major Jewish organizations, The New York Times opinion writer Bari Weiss and Catholic bishops.
Eric Goldstein, CEO of UJA-Federation of New York, struck a resolute tone.
"We come here on an historic first Sunday of the new decade to make a statement that any attack, any violent attack, against a visibly Orthodox Jew is an attack against all Jews, is an attack against all New Yorkers, and is an attack of all people of goodwill everywhere," he said, that other speakers also adopted. "We say no to hate and we say no to fear.
"We are building bridges of community, Jews and non-Jews … and building bridges means putting aside political differences, putting aside for this day religious differences, and calling out all forms of hatred wherever we see it and particularly in our own communities, in our own political party. And bridges aren't built in one day, but we must start somewhere. And we're taking a first step today."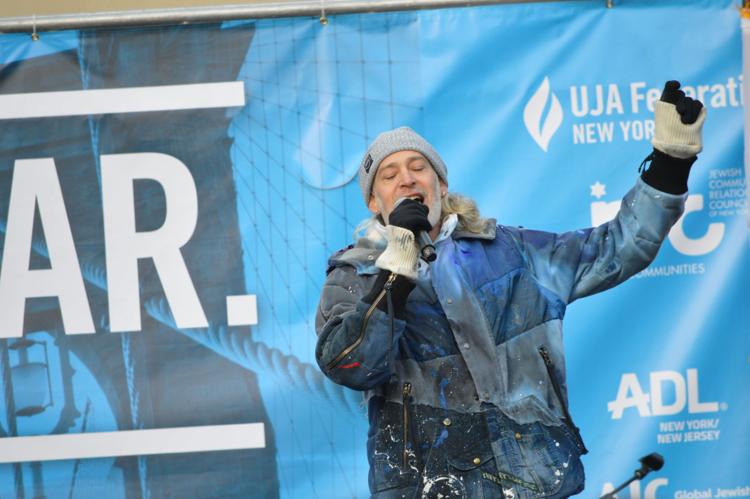 Goldstein thanked those who traveled long distances to march.
"I want to express immense gratitude to thousands of people who've come from across the country on literally no notice to attend this solidarity march and rally today," he said. "Thank you to the groups that came by bus and train and plane from New Jersey, Connecticut, Cleveland, Boston, Central Massachusetts, Washington, D.C., Montreal, and Toronto.
"And I'd like to thank the more than 15 Jewish federations from across the country who brought delegations to be with us at this moment. Our Jewish community is rightfully concerned about security. We will do all we can to keep our community safe, but we cannot let the current wave of anti-Semitism define us. We cannot have Jews lie low. We can't hibernate, try to blend in, stop wearing our kipot or other symbols of Judaism in hope that somehow this wave of anti-Semitism will somehow fade away."
Matisyahu, Ma Nishtanah and the Maccabeats performed.
The march was organized by UJA-Federation of New York and the Jewish Community Relations Council of New York, as well as ADL-NY, AJC-NY, and the New York Board of Rabbis.