Ohio has had 1,028,800 total cases of COVID-19, the Ohio Department of Health reported April 6.
The number of reported cases increased by 1,871 from April 5 – exceeding the state's 21-day average of 1,742. 
The ODH has changed how it releases COVID-19 deaths in the state after conducting a review of the process. Deaths will be verified by coded death certificate information received from the National Center for Health Statistics, which can take some time to receive, according to a note on the ODH website. Death information is not available daily and will be updated twice a week moving forward. 
Ohio residents account for a total of 18,741 COVID-19 deaths, the ODH reported April 6; the median age of those who has died is 80. 
The individuals who have tested positive range in age of less than a year to 111 years old; the median age is 42.
The total number of tests conducted in Ohio is 11,169,972. The daily percent positivity of confirmed laboratory tests is 6%, with a seven-day moving average of 4%, according to data from April 4.
The ODH reports 53,561 cumulative hospitalizations, and 7,472 individuals have been admitted to the ICU due to the coronavirus. The median age of those hospitalized is 67.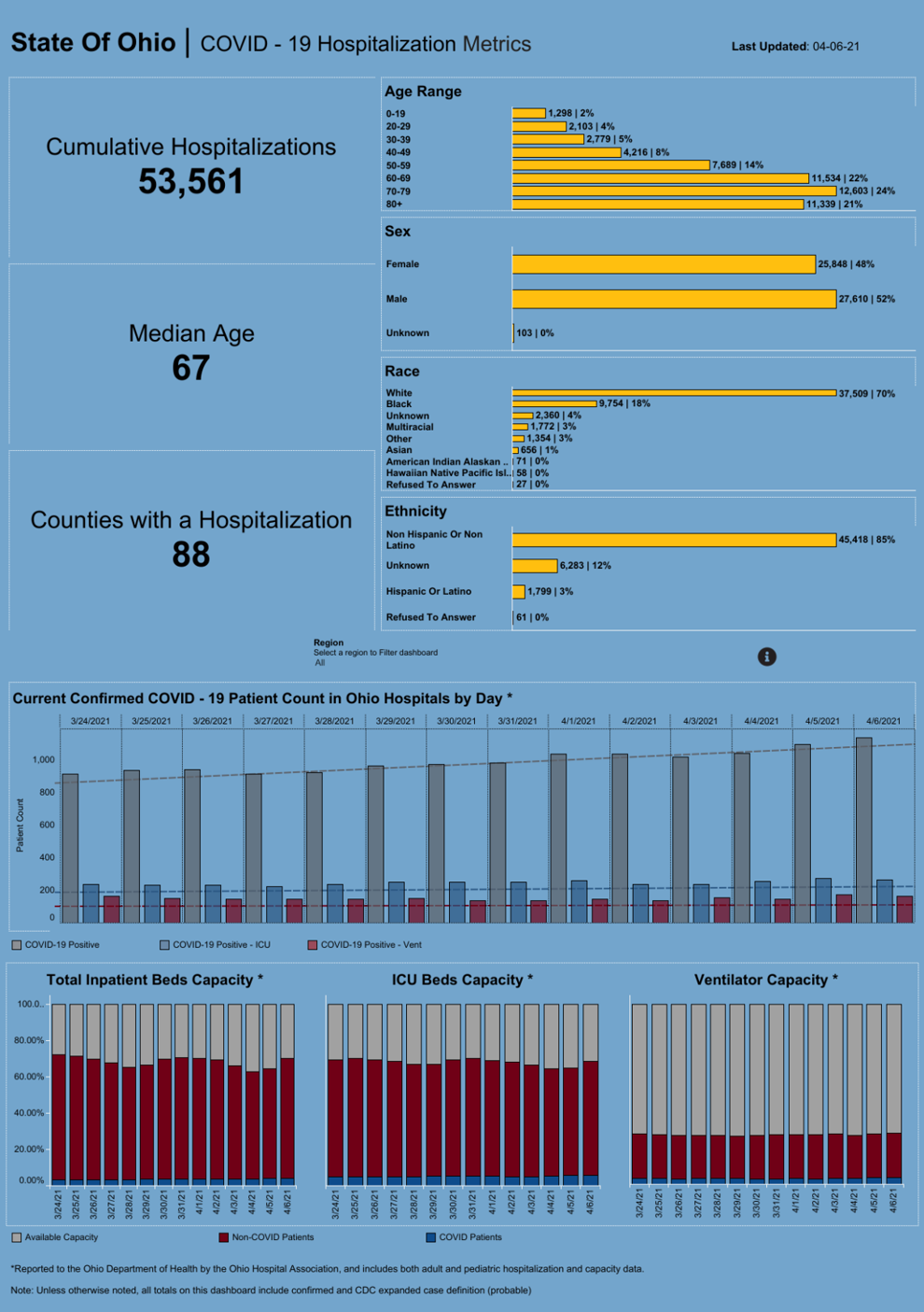 There are currently 1,136 patients hospitalized with the coronavirus – 262 are in the ICU, and 166 are on ventilators.
The ODH reports 974,894 individuals are presumed recovered – defined as cases with a symptom onset over 21 days prior who are not deceased.
Franklin County accounts for 119,303 of the cases, 3,640 hospitalizations and 1,339 deaths.
A total of 3,774,073 Ohioans (32.29% of the state's population) have received at least one dose of the COVID-19 vaccine, and 2,223,541 Ohioans (19.02%) completed the vaccination process as of April 6.
If you have questions regarding COVID-19, call 833-4ASKODH (833-427-5634) or visit coronavirus.ohio.gov.