As Ohioans who are 80 years and older prepare to roll up their sleeves to receive the COVID-19 vaccine beginning next week, Ohio Gov. Mike DeWine asked residents to be patient as there is a limited supply of the vaccine.
Starting Jan. 19, Ohioans 80 years or older who have not been inoculated either through work or congregant care living will have an opportunity to get the vaccine. The state is expecting to receive 100,000 vaccines for this group that includes 420,000 people. About 750 providers located across the state will be able to give the vaccine.
"There's not going to be enough next week for everybody," DeWine said. "We are trying to protect the most vulnerable people with a limited number of vaccines."
Starting Jan. 15, the state will launch a tool on coronavirus.ohio.gov where Ohioans can select their county or ZIP code to see a list of providers that received the vaccine. Ohioans are responsible for scheduling their own appointment.
Nearly all of Ohio's nursing homes have been visited by one of four pharmacies providing COVID-19 vaccines, Ohio Gov. Mike DeWine said Jan. 14.
CVS has visited 478 of the facilities they have been assigned with 10 more to visit; PharmaScript has visited 61 of the nursing homes of the 63 assigned; Wallgreens has visited 95% of their assigned nursing homes; and Absolute Pharmacy has finished with their first phase.
As pharmacies return to nursing homes for the second dose, DeWine noted more residents and staff are lining up to get the vaccine.
The state is not seeing a dramatic surge in cases after the holidays, DeWine said, but there has been an upswing in cases.
Hamilton County is listed at "purple" Level 4 on the advisory system, the highest level on the map indicating severe exposure and spread.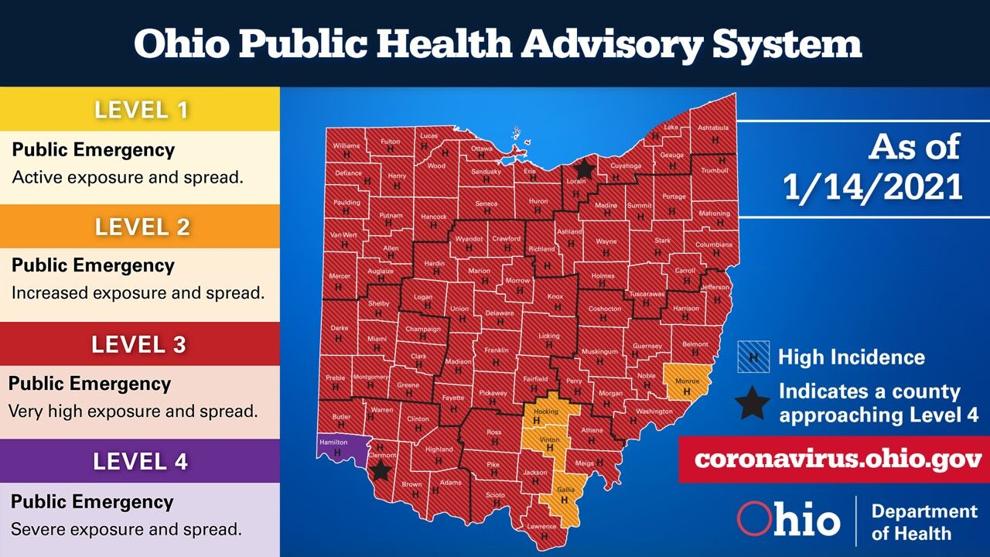 Because of increase in healthcare utilization, Loran and Clermont counties have been added to the watch list on the Ohio Public Health Advisory System.
The new cases per capita at the statewide level has increased since last week, which DeWine called "not good."
"We were already at a very elevated level at 657 cases per capita last week, and now we're close to 740," he said.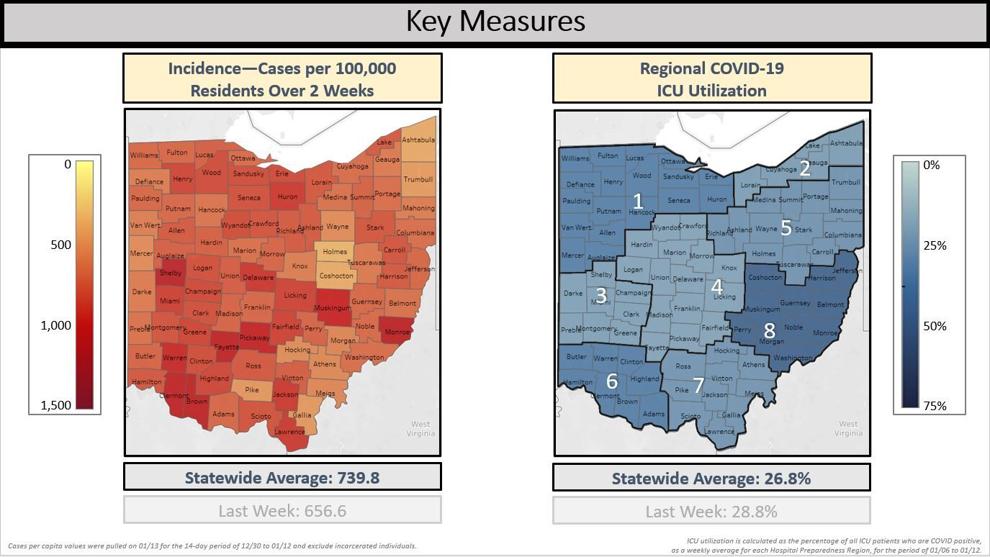 Ohio has had 807,293 total cases of COVID-19 and 9,990 total deaths, the Ohio Department of Health reported Jan. 14.
The number of reported cases increased by 7,654 from Jan. 13.
The individuals who have tested positive range in age of less than a year to 111 years old; the median age is 43.
The total number of individuals who have been tested in Ohio is 8,304,981. The daily percent positivity of confirmed laboratory tests is 9.9%, with a seven-day moving average of 13%, according to data from Jan. 12. 
The number of reported deaths in Ohio increased by 109 from Jan. 13. The median age of those who have died is 80. 
The ODH reports 48,230 cumulative hospitalizations, and 6,289 individuals have been admitted to the ICU due to the coronavirus. The median age of those hospitalized is 68.
The number of COVID-19 hospitalizations reported in the last 24 hours is 340, with 37 ICU admissions. There are currently 3,789 patients hospitalized with the coronavirus – 952 are in the ICU, and 618 are on ventilators.
The ODH reports 663,856 individuals are presumed recovered – defined as cases with a symptom onset over 21 days prior who are not deceased.
Franklin County accounts for 95,508 of the cases, 3,226 hospitalizations and 704 deaths.
A total of 361,603 Ohioans have received the first dose of the COVID-19 vaccine as of Jan. 14. 
If you have questions regarding COVID-19, call 833-4ASKODH (833-427-5634) or visit coronavirus.ohio.gov.