Over 50,000 Ohioans – including frontline workers, personnel involved in the care of COVID-19 patients, first responders, and residents and staff in nursing home facilities – have received the first dose of a COVID-19 vaccine, the Ohio Department of Health reported Dec. 27.
The state received its first shipments and began vaccinating health care providers Dec. 14. The vaccines require two doses administered a few weeks apart; 51,716 Ohioans have received the first dose of the vaccine as of Dec. 26.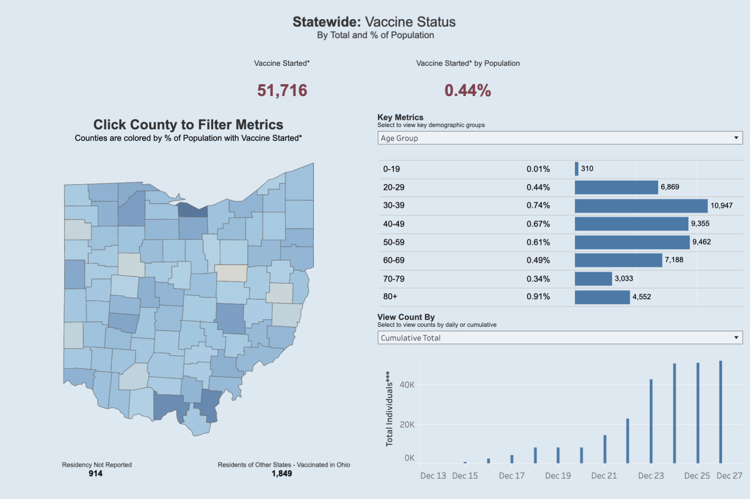 Ohio Gov. Mike DeWine on Dec. 23 outlined tentative plans for who will be eligible to be vaccinated when the state enters the next phase of its COVID-19 vaccine distribution plan.
Ohioans who are over 65 years old, those with severe inherited or developmental disorders that make them particularly vulnerable and adults who work in schools will be among the groups offered the vaccine.
DeWine said the goal is to start this phase mid-January, though he noted not every group in this phase would start at the same time.
Ohio has had 670,525 total cases of COVID-19 and 8,509 total deaths, the ODH reported Dec. 27.
The number of reported cases increased by 5,857 from Dec. 26.
The individuals who have tested positive range in age of less than a year to 111 years old; the median age is 43.
The total number of individuals who have been tested in Ohio is 7,542,611. The daily percent positivity is 12.4%, with a seven-day moving average of 13%, according to data from Dec. 25. 
The number of reported deaths in Ohio increased by 33 from Dec. 26. The median age of those who have died is 80. 
The ODH reports 36,786 cumulative hospitalizations, and 5,719 individuals have been admitted to the ICU due to the coronavirus. The median age of those hospitalized is 67.
The number of COVID-19 hospitalizations reported in the last 24 hours is 273, with 30 ICU admissions. There are currently 4,371 patients hospitalized with the coronavirus – 1,083 are in the ICU, and 731 are on ventilators.
The ODH reports 517,057 individuals are presumed recovered – defined as cases with a symptom onset over 21 days prior who are not deceased.
Franklin County accounts for 80,939 of the cases, 3,054 hospitalizations and 697 deaths.
If you have questions regarding COVID-19, call 833-4ASKODH (833-427-5634) or visit coronavirus.ohio.gov.