A vandal's act of tearing down pro-Israel banners at a Potomac, Md., synagogue has galvanized a community and sparked conversation about the blurred lines between anti-Israel sentiment and antisemitism, said Congregation Har Shalom senior Rabbi Adam J. Raskin.
Raskin, a Cleveland native and graduate of The Ohio State University in Columbus, said the congregation's long-flying banner proclaiming its support of Israel was sliced out of a frame over Memorial Day weekend.
Raskin reported the incident to local police, the Anti-Defamation League, the Jewish Community Relations Council of Greater Washington and The Jewish Federation of Greater Washington.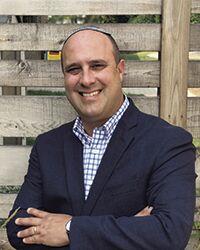 "In the meantime, our early childhood director did something really beautiful," Raskin told the Cleveland Jewish News June 7. "She used this as an opportunity to teach the children about constructive ways of disagreement and that when you disagree with someone, it doesn't mean that you get to destroy their property or…do something hurtful to them."
She also asked students to design posters proclaiming their love of Israel, which she hung in place of the banner outside the synagogue. Those signs remained hanging even after the new banner was hung midweek.
On the morning of June 5, Raskin was walking to his 700-family synagogue and noticed that the new banner was stolen.
"Thankfully, the vandals did not touch the children's artwork, which very explicitly said, 'We love Israel,'" Raskin said.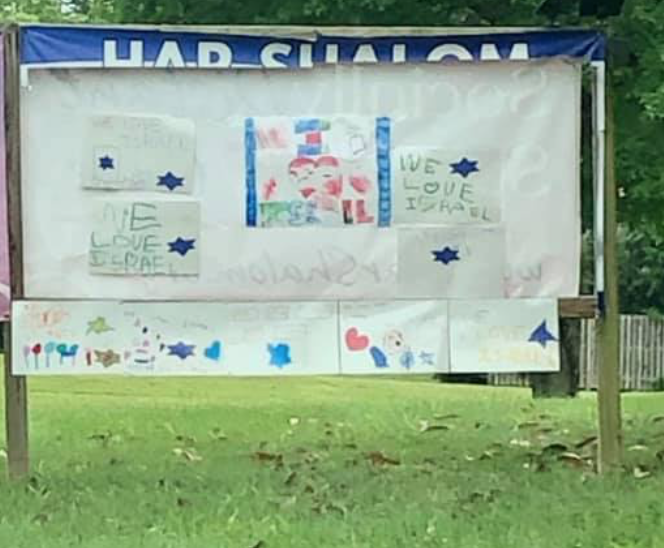 He filed a second police report.
"From the vandal's point of view, this is the law of unintended consequences," Raskin said. "Because what it's ended up doing is not only galvanizing our community and kind of clarifying our core values but also giving us a platform to speak about antisemitism and to really speak beyond our borders…of our synagogue or even the Jewish community the message that conflating anti-Israel or using anti-Israel sentiment as a way to intimidate Jews or silence Jews is frankly a form of antisemitism."
In addition, he said, there has been an outpouring of love for the congregation – extending all the way to Israel, with letters and cards received from Israelis thanking the congregation for its support.
The synagogue will reconfigure its security cameras so that if there is anything done to a third banner, there will be visual evidence, Raskin said, and there is some talk of placing it in a less vulnerable spot outside.
"Obviously, I'm not happy that it happened. …It's definitely been a wakeup call. This is a very educated, very affluent community," he said. "I think people are shocked that it's in their back yard. But that being said, it's given us this opportunity to speak broadly about this phenomenon which we're unfortunately seeing more and more of."
He said this is the first time he has experienced this sort of vandalism.
But, Raskin is happy about the community's response. "People have really just been effusive in their support," he said. "I'm proud of our congregation. I'm proud of our leadership. It's one of those clarifying moments."
Raskin grew up in Lyndhurst and attended Temple Emanu El in Orange. He said he was close to Rabbi Emeritus Daniel Roberts.
Raskin first went to Israel with the Jewish Federation of Cleveland on a teen trip when he was 16. Since then, he has been back numerous times.
After graduating from Charles F. Brush High School in Lyndhurst, he majored in Jewish studies at OSU, and in his senior year chaperoned a Jewish Federation of Columbus trip to Israel. He later married the leader of that trip, Sari Levinson. The Raskins have three children. Their oldest daughter, Mia, 20, was just in Israel for a year; she is a student at the State University of New York in Binghamton. Their daughter, Nessa, 18, is heading to Israel for a year of seminary after high school graduation. They have a son, Ezra, 14, who is heading into ninth grade at Berman Hebrew Academy in Rockville, Md.
Raskin is a graduate of the Jewish Theological Seminary of New York City. He has held positions in Dallas and in the Washington, D.C., area.
He has been the senior rabbi at Har Shalom for 10 years.