The Torah and Turf program is ready to kick off another year of flag football and faith, with a free open house and barbecue at 5 p.m. Aug. 25 at the JCC Rosenfeld Pavilion in Columbus.
Rabbi Hillel Kapenstein, outreach coordinator at the Columbus Community Kollel, who started the program last year, said the goal is to expand Torah and Turf this year, hence the kickoff barbecue. The Torah and Turf program is a partnership between the Columbus Community Kollel in Bexley, the Jewish Community Center of Greater Columbus and High Street, the young professionals group from Congregation Torat Emet in Bexley. Kapenstein said High Street's involvement will hopefully allow the Torah and Turff program, which involves teams both playing flag football and holding a Torah study, though not necessarily at the exact same time, to expand from four to six teams.
To increase excitement, he's also bringing in Dr. John Frank, a member of the National Jewish Sports Hall of Fame who, before becoming a doctor, played as a tight end for The Ohio State Buckeyes and later won a Super Bowl ring with the San Francisco 49ers in the NFL.
Frank also isn't the first NFL player to help out with the program; last season Kapenstein brought in Calvin Murray, a former Ohio State and Philadelphia Eagles running back who converted to Orthodox Judaism.
"It's a great starting place to connect with your fellow Jewish Columbus young professionals – you can create a great sense of community in a Jewish setting at our amazing JCC and (Frank and his wife) happily agreed," Kapenstein said of his pitch to getting Frank involved in Torah and Turf.
As the program did in the first season, Kapenstein said the Torah and Turf season will end with a tournament in St. Louis from Dec. 13 through Dec. 15, at the former training facility for the St. Louis Rams, who now play in Los Angeles.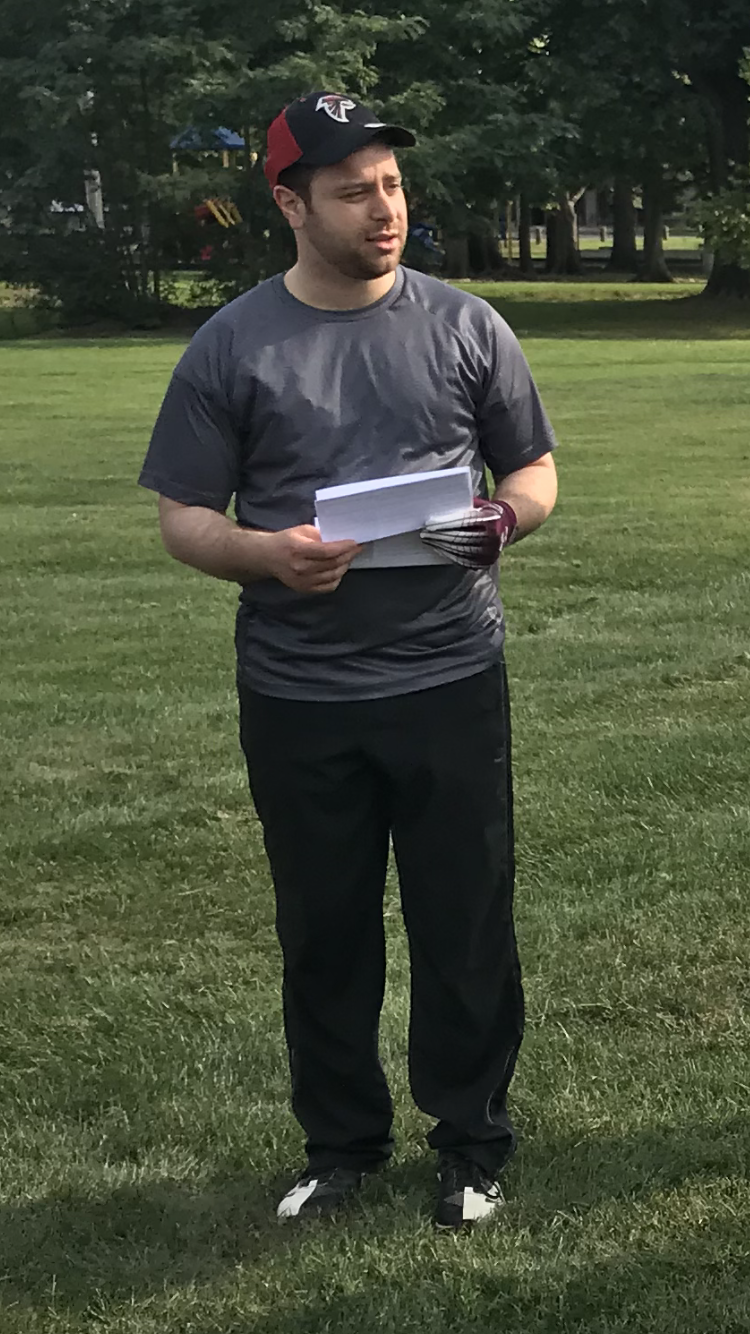 Games will consist of two halves, each approximately 20 minutes long, with games lasting about an hour each, said Kapenstein. He said while the program is competitive, it's still friendly and supportive.
"Obviously, everyone plays to win, but we also play to have a good time," he said. "Again, the goal is to create a sense of community in a very enjoyable, recreational setting. It's not too competitive. Of course, when you're trying to win, you're trying to win. Thank God, no major injuries and not too much shouting.
"I always like to say, I know I'm in a good spot when someone tries to win, but also if the other team is on the floor, they help them get up. Just trying to create a sense of balance and that's what we have."
For the open house and barbecue, the event is free and open to everyone, although right now the league is only comprised of men. Kapenstein said if enough women were interested, he could consider starting a Torah and Turf program for women. Dietary laws will be observed at the barbecue.
"Enjoy the barbecue, play in the league, bring friends, it's going to be a lot of fun," Kapenstein said.