Of the eight candidates vying for seats on Bexley City Council Nov. 5, only two are incumbents. The members of the octet each seek one of four open seats and all participated in a Legislative Forum Sept. 25 at Bexley City Hall, hosted by the Franklin County Consortium for Good Government.
Meanwhile, five candidates, including one incumbent, seeking election to the Bexley School Board also participated in the program. All 13 candidates were subject to a Q&A featuring written questions submitted anonymously by audience members, who filled both city council chambers and city hall's lobby.
Questions posed to the candidates were chosen at random by the evening's moderator, Carol Luper, a longtime Bexley resident and former news reporter. A discussion about the 9-mill continuing (permanent) operating levy for Bexley City Schools, which is also on the November ballot, concluded the event.
Bexley Mayor Ben Kessler is running unopposed and is expected to be re-elected.
The evening began with each City Council candidate offering a brief summary of why their background and experiences qualify them for the office they seek. School board hopefuls were afforded the same opportunity during their portion of the event. At the conclusion of their respective Q&A sessions, each candidate issued a closing statement.
Issues discussed
The eight council hopefuls responded to four questions from the audience. They were:
• Whether city tax dollars should pay for a student resource officer at private institutions, as St. Charles Preparatory School on East Broad Street has requested of Bexley City Council
• If one of the candidates became president of Bexley City Council, how would they run meetings even more efficiently than they are today?
• Whether Bexley needs any more banks or ice cream or sandwich shops
• About Issue 6, the Bexley School's levy and the steps each candidate would take to link Bexley with its neighbors
Bexley City Council candidates express their views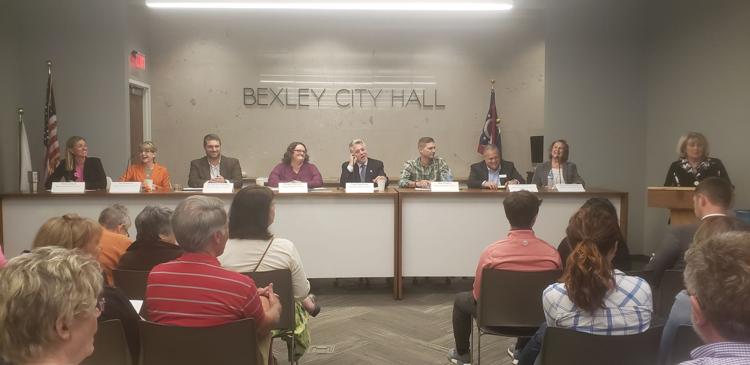 Mary Gottesman said, if re-elected to council, she would seek expansion of services for the city's senior citizens. She would also continue her work on the Bexley Diversity and Inclusion Collaborative, an effort begun in 2017, the Community Health Action Team and the advancing Ferndale and Mayfield initiative, an effort to spearhead development and improve access to affordable housing on the city's south side.
Joel Greff is a married father of four children, two of whom graduated from Bexley schools. He is a lifelong resident of Bexley who graduated from BHS in 1984. Should his campaign succeed, he would prioritize public services and resident safety, he said.
"I would put community above self," said Greff, a first-time candidate.
Matt Klingler works in the construction industry. He said he intends on leveraging his educational and professional experience and background to focus on Bexley's infrastructure. According to Klingler, there should be a "dedicated space for seniors and youth," in the city.
Troy Markham, the other incumbent seeking re-election, told the audience he offers "experienced leadership," noting his role in securing added funding to the city's rainy day fund. Markham noted during his term in office, Bexley has launched plans to erect a dog park, reduced the amount of waste the city sends to landfills and embarked on a major capital expansion of Jeffrey Mansion.
Meagan Matteson called herself "nearly a life-long resident" of Bexley. She said she will not hesitate to "challenge the status quo."
Ian Nickey, a 10-year resident of Bexley, proposed a child care tax credit, up to $500, for city residents who spend more than $5,000 on child care annually.
Jen Robinson, the director of Harmony Kids of the Harmony Project, which aims to connect children through performance and service, said she, her husband, three children and a menagerie of pets moved to Bexley 11 years ago because of the quality education afforded by the city's schools.
Robinson also focused on her professional background. "My work experience makes me a qualified candidate," she said.
Jessica Saad said her 15 years of business experience will serve her well on council as she toils to represent city residents. Regardless of whether her effort to secure a seat on city council is successful or not, she vowed to find funding for additional bicycle racks throughout Bexley. She also noted her 11 years in public service. Most recently, she was chair of BRAVO!, the annual fundraiser benefiting the Bexley Education Foundation.
Each candidate expressed their support for Issue 6. The Bexley school levy is proposed for current operating expenses and would be at a rate of 90 cents per $100 of valuation for a continuing period of time, commencing in 2019, according to the Franklin County Board of Elections.
According to Matteson, Bexley's "schools bring new residents to the city. Keeping schools doing as well as they are is paramount."
Nickey called the levy "a worthwhile investment."
Board of Education hopefuls discuss candidacies, visions for schools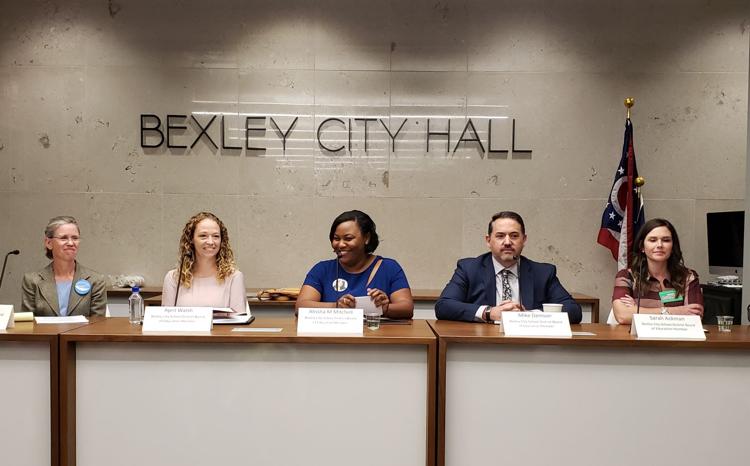 Mike Denison is both the only male and sole incumbent seeking a seat on the Bexley Board of Education. The other four candidates are female, but not all are fresh faces to politics.
Alissha M. Mitchell, a South Bexley resident who moved to the city 10 years ago with her husband and five children, was appointed to the school board in 2015 when Carol Fey resigned. Mitchell's term ended in 2018. She is the only African American ever to sit on the Bexley Board of Education.
First-time candidate Sarah Ackman said, if elected, her focus would be on improving special and gifted education programs. She also said she hopes to spearhead intergenerational learning in the city.
April Walsh, who works with students with disabilities, has four children in the Bexley school system.
Victoria Powers' two sons both graduated from Bexley High School. She also boasts 31 years as a financial restructuring attorney. She said she is "passionate to provide children with the tools they need in a changing world."
Following the same protocol as city council candidates, the five seeking a school board seat responded to written questions from audience members.
The questions included what each candidate would do to:
• Improve educational opportunities for disabled, low-income or minority students
• Ensure school funding is primarily spent on student instruction, not supervisory roles
• Respond to the rare "B" grade Bexley Schools recently earned from the Ohio Department of Education
In response to the third question, Ackman said she would advocate for Bexley families lacking the resources to improve their children's reading abilities.
Denison focused his response on the makeup of Bexley's educators.
"I want to double minority hiring," he said.
Mitchell expressed disbelief at the grade. She said she is perplexed how Bexley schools earned less than an "A" rating when 100% of its high school seniors passed graduation requirements issued by the Ohio Department of Education.
An educator herself, Walsh said she is "not a fan of the state report card."
Powers pointed to the district's new curriculum for reading, which is based on phonics. She also noted the rate of BHS graduates who earn a college degree is trending up.
Early voting in Ohio begins Oct. 8. The deadline to register to vote in Ohio for the November election is Oct. 7.
---
Tami Kamin Meyer writes for the Columbus Jewish News from Bexley.