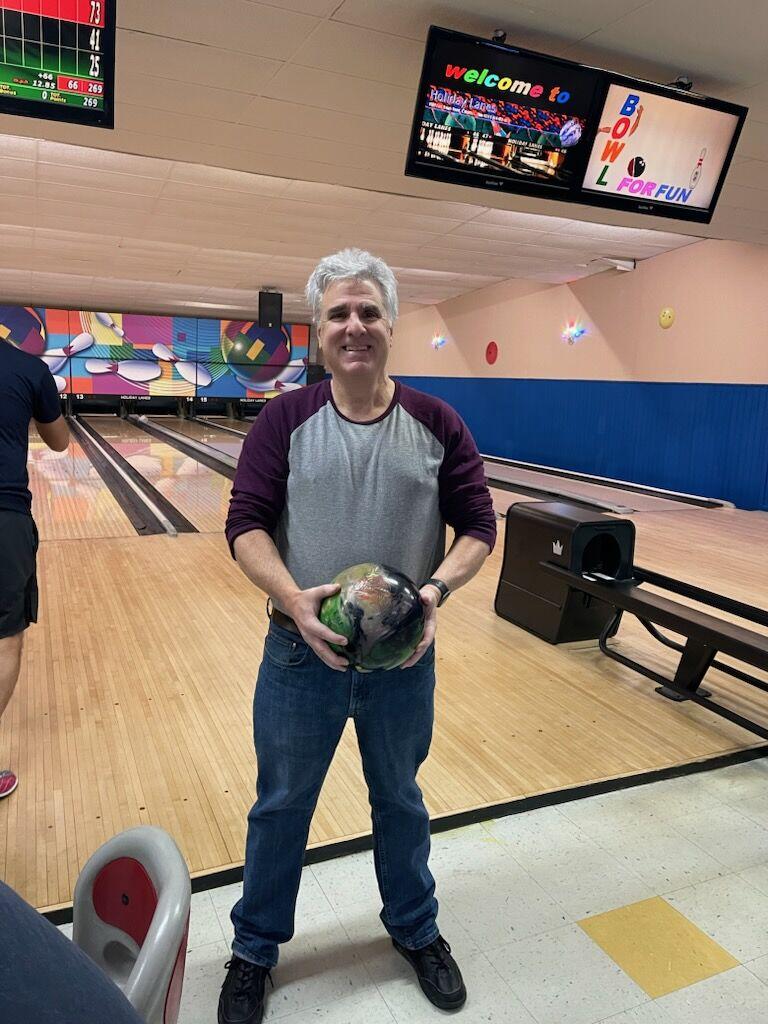 With a month left in the second half of the season, Homage continues to hold onto first place after the team took 19.5 points from Bressman Law Feb. 19. Homage won the match, despite Bressman's Ken Kerstein's 623 scratch game and 707 handicap series, besting Homage's Barry Daroe's 622 scratch and 697 handicap series in a battle of cleanup bowlers. This comes a week after Homage increased its lead after taking 22 points from Holiday Lanes, despite Holiday Lanes' David Stone's league-high 245 scratch game, and sub Joel Schwartz's league-high 743 handicap series.
Meanwhile, Conrad's Gifts stayed within striking distance of Homage, 6½ points off the lead, 139.5 to 133 after the Feb. 19 matches as Conrad's, led by Nick Delph's 255 high scratch game and 741 handicap series, took 21 points over Holiday Lanes. A week earlier, Conrad's, led by Delph's 685 handicap series, took 25 points over Golden Meizlish Law.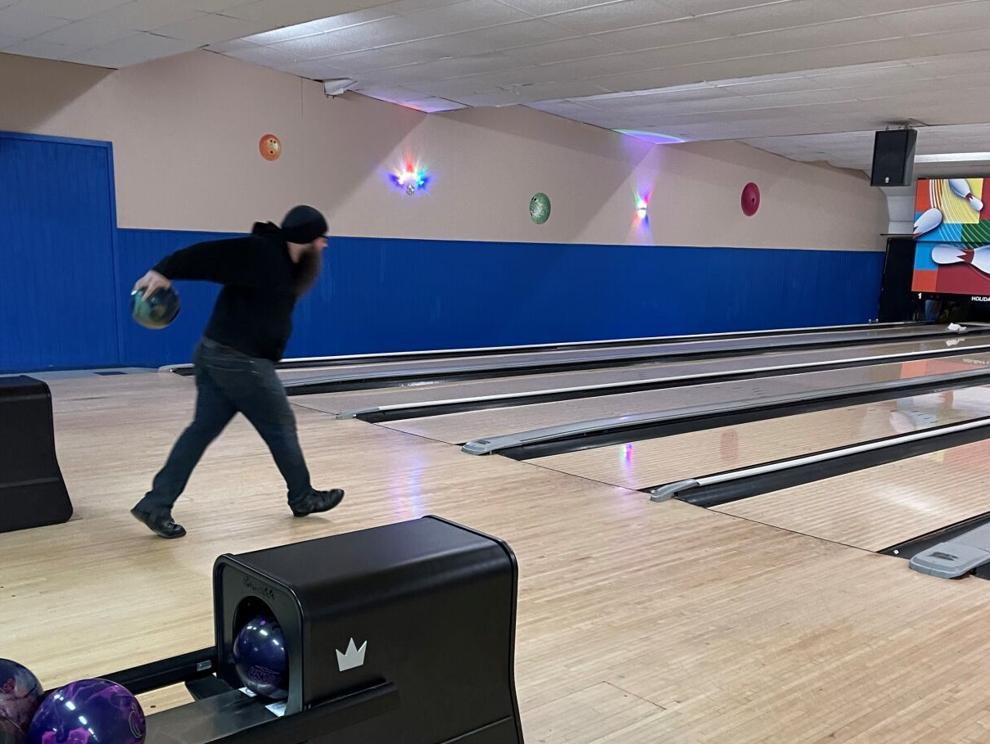 In other competition, Nutis Press jumped to fifth place in the standings Feb. 19, taking 24 points over Shareatech, which held onto third place by 2½ points over JAW Enterprises. JAW held onto fourth place despite losing 20 points to Strip Hoppers, led by Scott Blair's 714 handicap series. In the previous week's matches, Strip Hoppers, with all four team members each scoring 600-plus handicap series, took 28 points from Nutis Press, while bowler of the week and anchor Ryan Vessler had a 630 handicap series. Also, during the Feb. 12 matches, Shareatech, led by Joel Greff's 672 handicap series, took 23 points over Bressman Law.
Additionally, Golden Meizlish Law, led by Jonathan Beck's 627 scratch and 675 handicap series, and sub Stu Gold's 673 handicap series, took 23 points over Volunteers for Israel Feb. 19, moving up to sixth place. In the previous week's matches, Volunteers for Israel, led by Randy Cuenot's 705 handicap series, took 29 points over JAW Enterprises.
---
I.M. Harris Bowler of the Week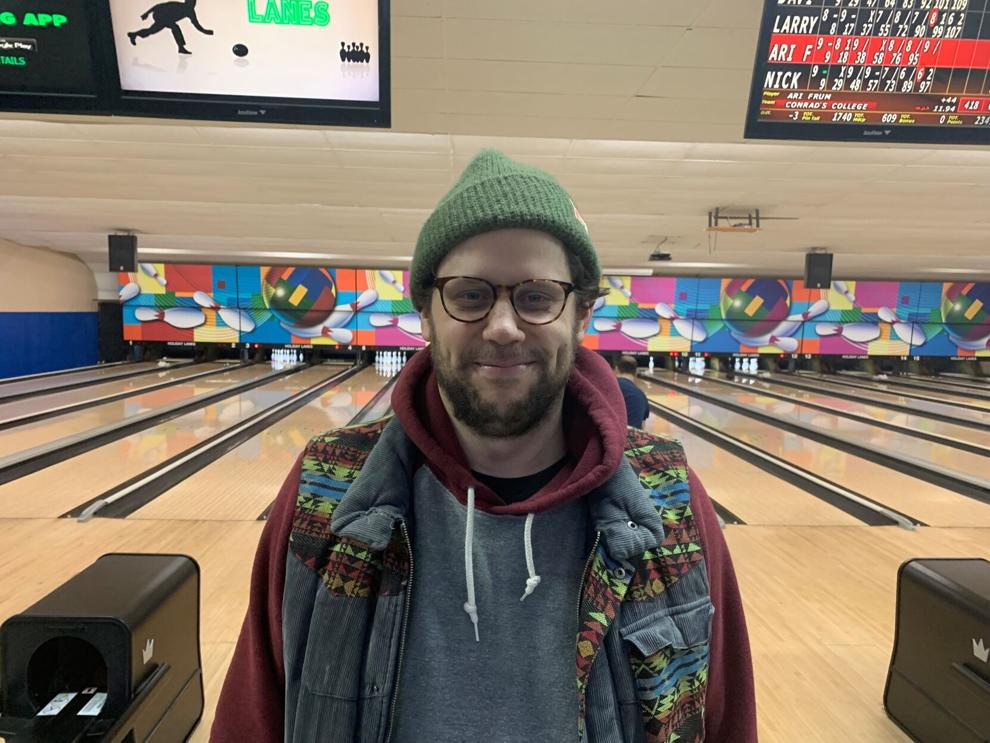 Ryan Vesler has been a bowler since middle school and has recruited many of his friends and associates to the I.M. Harris B'nai B'rith Bowling League. The graduate of Columbus Academy in Gahanna and Ohio University in Athens, he began his business career working at an Apple store while selling clothing on eBay. He later founded Homage Vintage Apparel, where he serves as CEO. Vesler was recognized in 2015 by Columbus Business First with its Top 40 under 40 Business Award and works with over 75 nonprofit organizations through Homage's philanthropic arm, Homage Works. The 40-year-old, who is engaged, has said he enjoys the brotherhood and fun of B'nai B'rith bowling, pickleball, long walks on the beach, along with making prank phone calls to the "alte kakers" of the bowling league.
The bowler of the week is selected by the I.M. Harris Men's B'nai B'rith Bowling League.
---
Feb. 19 highlights
Jerry Friedman rolled for the Pot O'Gold but missed a strike, taking home $8.
Pooches - A gutter ball on the first throw followed up by a strike for a spare.
Justin Shaw
Maurice Caplan
Mike Schottenstein
Splits
Nick Delph 3-4-7-10
David Stone 3-6-7-10
Jerry Friedman 4-7-10
Jeff Wasserstrom 5-7
Rick Barnett 4-9; 5-7
Justin Shaw 2-7
Howard Schlein: 3-10
Jonathan Cooperman: 4-9
Notables
Nick Delp: Threw eight strikes in a row.
Feb. 12 highlights
Brain Hirschl took over the high individual match point lead from Rick Barnett with 45.5 points while Ira Nutis maintained the individual high average of 209.
Roni Hyam threw for the $354 Pot O'Gold, but missed the strike, taking home $8.
Pooches
Mike Caplan
Splits
Jonathan Beck 3-10; 4-7-9
Barry Daroe 4-9
Marc Gutter 3-10
David Bressman 5-10
Mark Mitzman 4-5
Notables
Ken Kerstein threw a clean game, which is when there are strikes or spares in every frame.
David Stone rolled seven strikes in a row.
---
Feb. 19 league standings
1. Homage 139.5
2. Conrad's Gifts 133
3. Shareatech 114.5
4. JAW Enterprises 112
5. Nutis Press 110
6. Golden Meizlish Law 109
7. Volunteers for Israel 108
8. Holiday Lanes 105
9. Bressman Law 94.5
10. Strip Hoppers 94.5
*Weekly statistics, highlights and standings provided to the CJN by I.M. Harris B'nai B'rith Bowling League.