Ryan Turell has been playing organized basketball since he was 5 years old in California, but he has never been closer to realizing his dream to play in the NBA.
Turell, who is attempting to become the first Orthodox Jewish player in the NBA, is now one step closer to his dream as a rookie member of the NBA G League affiliate of the Detroit Pistons, the Motor City Cruise.
The G League is the NBA's official minor league. He was drafted by the Cruise with the No. 27 pick in the 2022 NBA G League Draft Oct. 22, after a sterling career at Yeshiva University in New York City, where he was voted the National Association of Basketball Coaches Division III National Player of the Year.
"Growing up, you just want to play, and I play because I love the game," Turell told the Cleveland Jewish News following a 120-100 loss to the Cleveland Charge at Cleveland State University's Wolstein Center Nov. 19 as the Cruise fell to 1-6. "It's really been an amazing opportunity."
The Cruise opened the season Nov. 4 at the Wolstein Center with a 114-111 overtime loss to the Charge, the Cleveland Cavaliers G League affiliate. So, Turell's G League career began on a Shabbat in downtown Cleveland, where he walked from the team hotel to the arena, but didn't see action in the game – the only game he hasn't played in this season. In six games, he has averaged 5.1 minutes per game.
"We didn't get off to the start we'd like to, but just got to keep building, get better every day," Turell said. "I feel like I'm getting better as a player, I'm definitely getting my wind back from my injury, learning how to play at this fast pace. Yeah, I think I'm improving every day."
Turell scored his first G League points in a 137-112 loss to the visiting Wisconsin Herd on Nov. 17. He connected on two-of-five field goal attempts, including a three-pointer for five points total.
In the second meeting against the Charge Nov. 19, the 23-year-old Turell played a few minutes in the second quarter and the fourth quarter when he missed his only field goal attempt, but made a back-door pass. That pass sent the hundreds of Jewish fans who came to see him play into a wild frenzy. He's been a fan favorite in the Jewish community with his own cheering section everywhere he has played this season.
Fuchs Mizrachi School in Beachwood purchased 170 tickets and along with other Jewish fans streamed through the gates once Shabbat ended. Cheers of "Ryan, Ryan," were heard throughout the night and when he entered the game, the cheers got louder.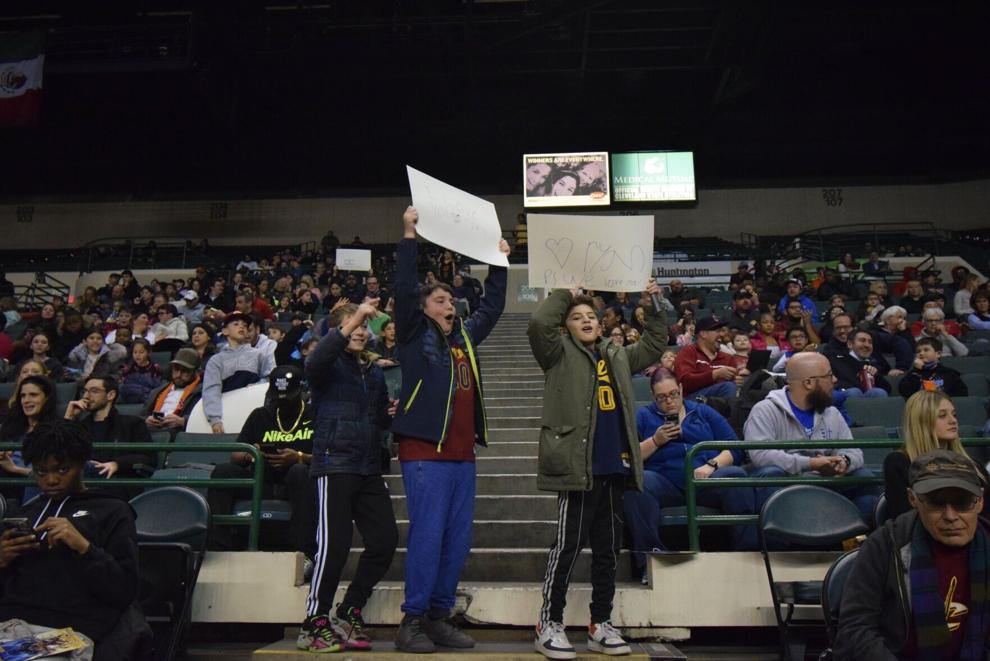 Turell, who wears a blue Pistons yarmulke affixed to his curly blond hair, has already impressed coach DJ Bakker.
He's been "absolutely terrific," Bakker told the CJN after the game. "For a rookie, he's highly competitive and he has an extremely high IQ. There's a growth and developmental process for all rookies in order to be productive G League players, but (he's a) really coachable, really hungry player, high IQ. And more important than the basketball, a great teammate."
Throughout the game, Turell was the first person off the bench to cheer on his teammates. Many times, he tried to rally his supporters in the stands by leading them in cheers of "defense, defense."
"His shooting as a premium, understanding the game, (he) does a good job of landing on two feet and play making," Bakker said. "You saw him hit a back-door cut today, so his play making, his understanding of the game and his shooting are really, really good for us."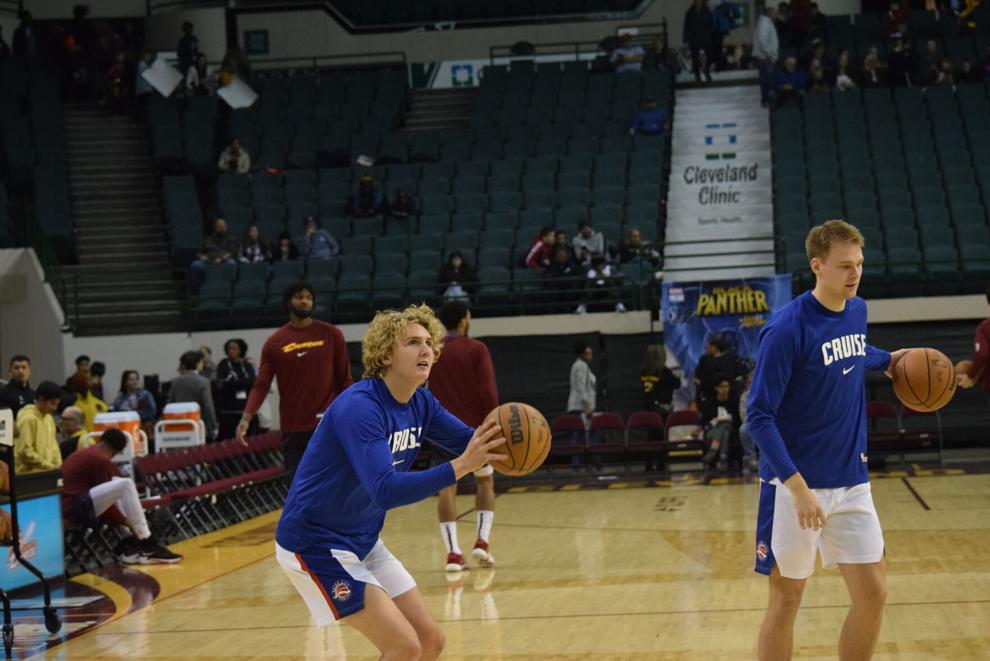 Turell said the crowd makes him feel "supported and loved, and just makes me want to work hard every day." Chants of "We love you, Ryan" were heard throughout the night.
Trying to make history hasn't been a burden for him, he said.
"I don't feel pressure," Turell said. "I just feel all the love from the Jewish community. I feel motivated to work hard and understand some things are bigger than basketball. I have an opportunity to shed a light on the Jewish people and the Jewish community and I want to inspire them."
Turell is a 6-foot-7, 190-pound guard-forward. His father, Brad, is 6-foot-3 and played basketball at the UC Santa Barbara, while his mother, Laurel, is 5-foot-9. His older brother, Jack, is 6-foot-5, and also played at Yeshiva University, while his sister, Austin, is 5-foot-6. The family lives in the Valley Village neighborhood of Los Angeles and belongs to Shaarey Zedek Congregation. The children attended Emek Hebrew Academy and Valley Torah High School.
At Yeshiva University, Turell and his teammates caught the eye of the basketball world by reeling off 50 consecutive victories, which ended with a 73-59 loss to Illinois Wesleyan University on Dec. 30, 2021. He was named to the D3hoops.com All-America first-three for three straight years, won the 2023 Jay Fiedler Outstanding Jewish College Athlete of the Year award, was a finalist for the Bevo Francis Award, and was the NABC District 3 Player of the Year. Turell was also a two-time Skyline Player of the Year honoree and selected to the All-Skyline first-team three times.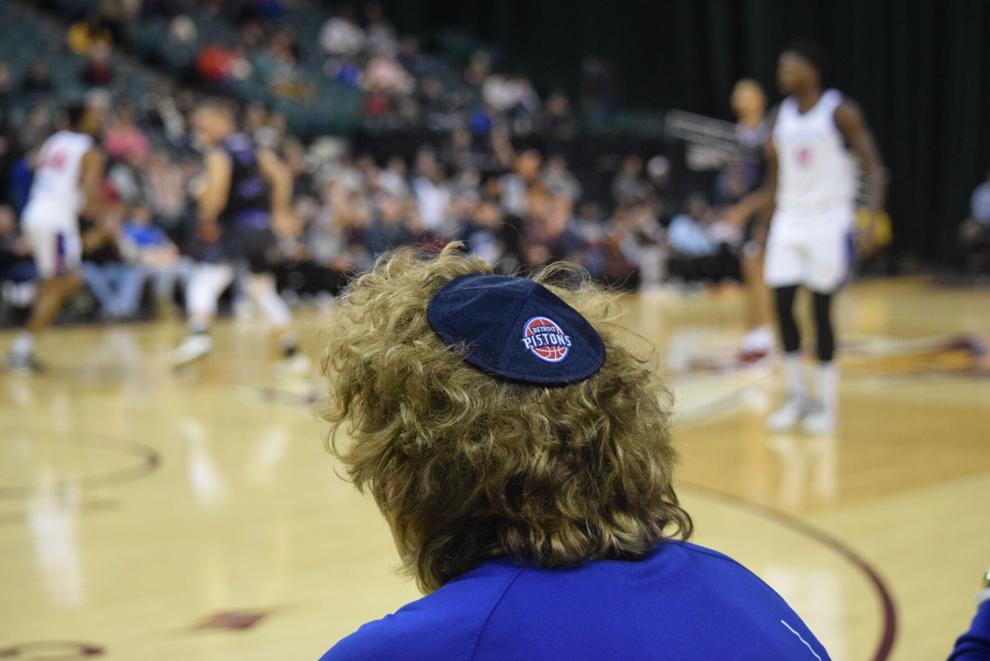 Turell earned the Travis Grant Award by leading all three NCAA divisions with 27.1 points per game last season. He also helped the Maccabees earn two league titles and the No. 1 ranking in the D3hoops.com top 25 poll.
Turell closed his collegiate career last winter with a school-record 2,158 points, and set Yeshiva University's all-time single season scoring record with 786 points on shooting 58.7% from the field and 46.8% from three-point land. He also holds the school's single-game scoring record with 51 points during a victory over Manhattanville College in Hamson, N.Y., on Nov. 28, 2021.
At Valley Torah, Turell scored 40 points in a single game on numerous occasions, and once scored 60 points in a game. He was considered one of Southern California's best prep players and was only the third Jewish player in a 41-year history to be nominated to the McDonald's All-American Games. Tamir Goodman, who played at Talmudical Academy in Baltimore and lived in University Heights before making aliyah, earned a nomination in 2000, and Aaron Lieberman of Valley Torah earned a nomination in 2011.
The Cruise organization has made the off-the-court transition from college to the pros as seamless as possible. Turell lives near Wayne State University in Detroit, where the Cruise plays their home games. On the road, the team's hotels have been within walking distance of the arenas so Turell can walk over during Shabbat to play. If the team plays a Friday night road game and returns home that night, arrangements are made so Turell can travel home after Shabbat.
"I don't think there's any challenges – there's just differences we have," Bakker said. "To be honest, I don't know everything (about Orthodox Judaism). On the Sabbath, you can't bus, so I'll walk with him to practice. One of our assistants will walk with him to the arena like we did today. I know there's things with what he can eat. I don't know everything, but the Pistons and the Cruise organizations have done a great job of understanding what does he need from us to make this happen, and we're 100% supportive of what that means.
"... We have a terrific operations staff and before any of this happened, the Pistons and the Cruise, we met on these things so anything from a logistical standpoint, I know it's taken care of. We've got great people in charge of those things and I'm just supportive of what I can do to make the logistics as easy as possible."
Bakker, who was an assistant coach and player-development coach for three seasons with the Pistons before becoming the Cruise's first coach in 2021, spoke highly of Turell.
PHOTOS: Ryan Turell and the Motor City Cruise play in Cleveland
"... On the defensive side, he gives full effort and utilizing his understanding of the game and his IQ to beat players who might be quicker or more athletic," Bakker said. "There's a lot of new concepts on both sides of the ball for all rookies to go through, offensively and defensively, there's a lot for them to learn (in) the pro game as well, just in general from a rookie standpoint."
Turell – who visited Israel once when he was 9 years old for his brother's bar mitzvah and said he would like to go back "bezrat Hashem" (with G-d's help) – signed autographs and spoke to the Fuchs Mizrachi group after the game behind the court area and answered a few questions from the young students.
He told them, "You guys help motivate me to keep working hard, and I hope I help motivate you to keep working hard every day."
Turell also said his teammates "are asking me questions about Shabbos. How does the kippah stay on your head? And all that. It's been really cool."
The students asked him questions, such as:
• What motivated you to try to make it to the G League and the NBA?
"I just wanted to get better every day," Turell said. "When I was your guy's age, I didn't think I was going to be here. I didn't know where I was going to get to, but I decided I was going to work hard every day and win every day. If you win enough days in a row, you're going to succeed. Always work hard, always stay consistent in that. You're going to have highs and you're going to have lows – just keep putting in the work."
• (What's) it like keeping Shabbos?
"It's amazing," he said. "That's why I wear No. 7 – it's the seventh day. It's Shabbos and it's one of the most important mitzvahs and we want to keep that."
• How did you get good in basketball?"
"Just work hard every day, put in the work," he said.
After posing for a group photo with the Fuchs Mizrachi students, it was back to Detroit for Turell, where he hopes to continue his development and hopefully receive that call-up to the NBA.
"These are the best of the best," Bakker said. "If you look in this league, there are high major players, there's former NBA players, there's former two-way players, there's NBA assignment guys. Every single night, you're going against NBA guys and fringe NBA guys. You're talking about the second-best league in the whole world.
"Yeshiva's obviously a great school, a great conference. (Turell) did terrific there. And for all of our guys, I don't care if they went to Yeshiva or if they went to Duke – this is a big step up for every single rookie in the league. It's a pleasure to have him, a pleasure to coach him. He's all about the team, and I'm lucky to have the opportunity to coach him."