For 12-year-old soccer player Asher Sniderman, an opportunity to compete in the Netherlands came out of a Columbus camp.
Asher was selected for the Holland Tour Team 2019 after attending the camp run by Dutch Soccer School last summer. The camp aims to bring high-level soccer players and educators from the Netherlands to train younger players in the United States.
Then, Asher, who lives in Worthington and plays soccer for team Worthington United 94, was one of two players selected from Central Ohio for the U.S. team, which played Dutch youth teams in several matches from Aug. 13-18.
As goalkeeper, he called his position "high pressure."
Asher competed in an under-14 age group and overall, his team won two games, lost two and tied one.
"All the games were competitive and considering they had played the first game not much longer than 24 hours after everyone met, they did really well," said Jeffery Sniderman, Asher's father.
Jeffery Sniderman said the games were important for the Dutch players, as their performances were factored into selection for spots on teams for the upcoming season.
Asher said compared to American players, those in the Netherlands were more physical during the games, meaning they tackle harder.
During the trip, Asher's team and some of their family members stayed in a rural town at a farmhouse that was converted to a bed and breakfast – experiencing a part of the country not often traveled by tourists.
"We actually met up with two of the coaches we hosted last year, we met them in Amsterdam (and) had dinner with them," said Cathi Sniderman, Asher's mother. "And they told us we were seeing part of the Netherlands most Dutch folks don't see because we were so far out in the country. But it was amazing. It was such a great experience for Asher to get to be selected to do that and get to go."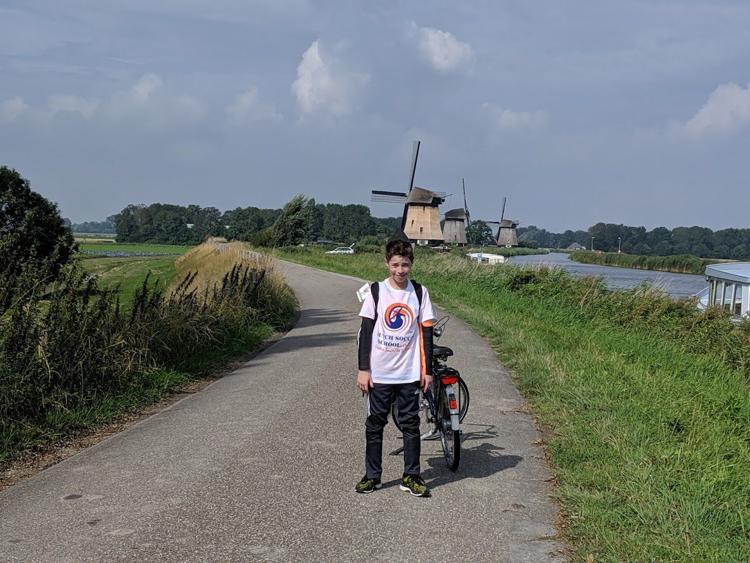 The players rode bikes to practices in a village called Ursem, about 30 miles north of Amsterdam.
"We had a day where we went into Amsterdam and they had arranged for a tour of the Anne Frank House," Jeffery Sniderman said.
The family also visited Tottenham Hotspur Stadium in London during the trip, which was a highlight for Asher, who said he hopes the experience improves his skills back home.
"A big thing would be to settle down with the ball, and be a little bit more patient and not be afraid to toss the ball backwards and reset the play," he said.